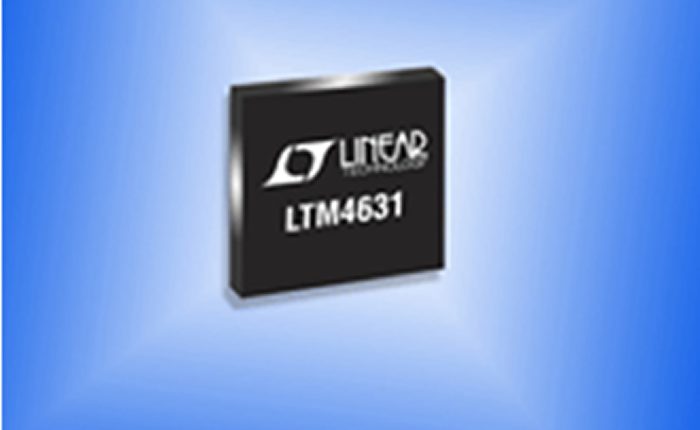 µModule regulator mounts on the backside of circuit boards
Linear Technology has introduced the LTM4631, a dual 10 or single 20A µModule step-down regulator in an ultrathin 1.91mm LGA package with a 16x16mm footprint. The LTM4631 can be placed on a PC board very close to its load such as an FPGA, while sharing one heat sink covering both of their low profile packages.
The small, thin package permits the LTM4631 to be mounted on the backside of circuit boards, freeing space on the topside for components such as DDR-QDR memory and transceiver ICs.
Examples of applications include plug-in and mezzanine cards in embedded systems, data storage systems, gateway controllers and 40 to 100Gbps networks.
LTM4631 operates from 4.5 to 15V input supplies and regulates an output voltage from 0.6 to 1.8V with ±1.5% maximum total DC output voltage error from –40 to 125°C. Its two outputs operate 180° out-of-phase, each capable of delivering 10 or 20A when the outputs current share. Two devices can current share, delivering up to 40A while minimizing input and output ripple current. The device features output overcurrent foldback and overvoltage protection. The LTM4631 is rated for operation from –40 to 125°C. 1,000-piece pricing starts at $24.88 each.
Summary of features: LTM4631
1.91mm Ultrathin 16x16mm LGA Dual 10 or Single 20A µModule Regulator
wide input voltage range: 4.5 to 15V
output voltage adjustable with resistor from 0.6 to 1.8V
overvoltage and overcurrent protection
Pricing shown is for budgetary use only and may differ due to local duties, taxes, fees and exchange rates.