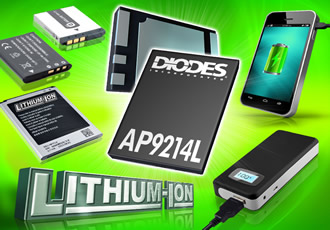 Battery-Protection Circuit Features Precision Voltage Detection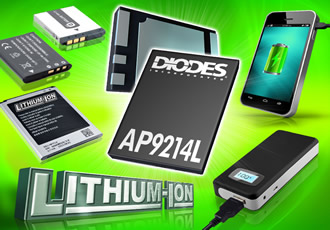 Providing single-chip protection for 1-cell lithium-ion (Li+) and lithium-polymer batteries, the AP9214L introduced by Diodes Incorporated is specifically designed for use in rechargeable Li+ battery packs, as found in smart phones, cameras and similar portable electronic equipment. Targeted at the manufacturers of battery protection modules, the device's accurate monitoring capability delivers safe charging and discharging, prolonging cell lifetime and minimizing energy losses.
The AP9214L co-packages a Li+ protection circuit with a dual N-channel, common-drain MOSFET that can be rapidly turned off when overcharge voltage/current, over-discharge voltage/current, or load short-circuit conditions are detected. A stable temperature-coefficient characteristic contributes to the device's high-accuracy voltage-detection capability, which can be precisely set within various voltage ranges as required by the end-application. The AP9214L also integrates a built-in fixed detection delay time to reduce external component count.
With a low quiescent current, 3.0µA at +25°C in normal mode (typ), and a MOSFET that boasts an ultra-low RSS(ON) of 13.5mΩ (typ), the AP9214L offers significant power-saving benefits. A power-down mode further cuts the quiescent current to below 0.1µA. The high-voltage CMOS process used to fabricate this device also means it can endure voltage surges up to 30V. An ultra-low profile DFN2535-6 package, with a maximum height of 0.6mm, allows the AP9214L to be used in slim battery-protection modules.
The AP9214L in the DFN2535-6 package is priced at $0.27 each in 100k piece quantities.