Every wonder who would win in a race between a giant airplane and an electric car? Wonder no more because Tesla teamed up with Australian airline Qantas to show us.
A Qantas Boeing 737-800 aircraft and a Tesla Model S P90D electric vehicle set out on a nearly two-mile stretch at the Qantas airport yesterday.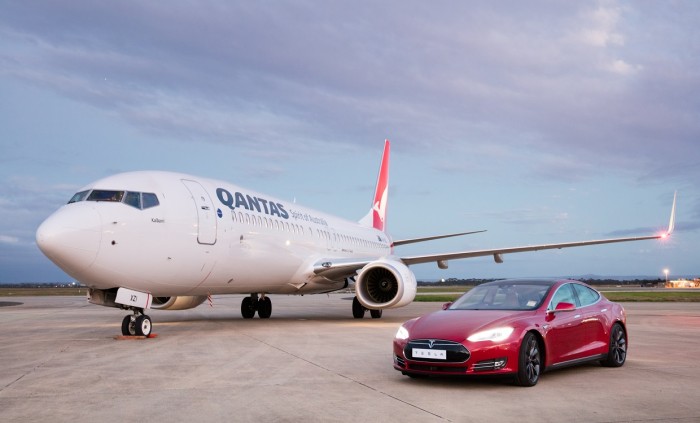 Plane vs. car
The 737 is equipped with two CFM international jet engines and can generate more than 50,000 pounds of thrust to fly through the sky at a cruising speed of 850 km/h. The plane can approach the speed of sound, while the Tesla Model S can reach speeds of 65 mph in just three seconds, but can't fly.
At the beginning of the race, the Tesla took off quickly, but the plane caught up as both vehicles remained neck-and-neck much of the race. The 737 reached its take-off speed of 140 knots and the Tesla made it up to about 155 mph.
Want to see who wins? Watch below.
[Spoiler Alert: For those who are not going to watch the video, the Tesla was just in the plane's shadow as the two approached the finish line when suddenly the plane began to fly — an advantage that the Tesla did not have.]
The race was conducted as a form of promotion between the two companies.Qantas and Tesla are now collaborating to drive innovation for the transport industry. In addition, Qantas will become Tesla's airline of choice in Australia and offset all the car maker's domestic corporate travel emissions as part of Qantas' Future Planet Program.
"We're huge admirers of the way Tesla has transformed the electric car sector as a premium brand and we look forward to sharing our understanding and advance the work we started in 2012 on biofuels as an alternative to jet fuel," said Alan Milne, Qantas' Head of Environment and Fuel. "What better way to celebrate working together than having a unique race – car versus plane."