If you ever become tired of working on your ordinary desktop computer, there may be another option. A company called 3D Horizons has introduced a new technology that transforms your PC into a virtual reality world without the use of headsets and other gear.
The company wants to leverage the upcoming changes in the Virtual Reality space and new touch devices by allowing computer users to change their computer environments and become immersed in them.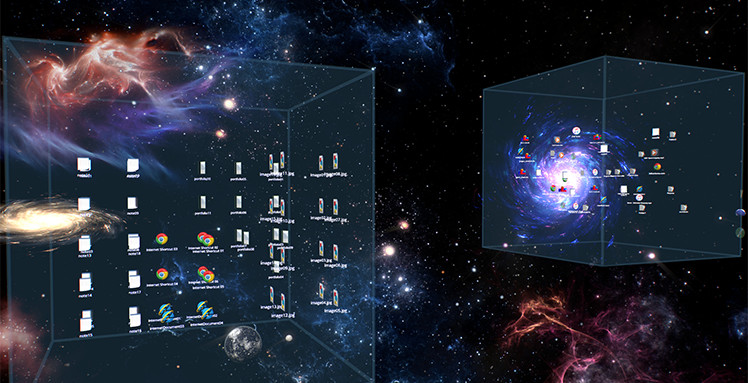 According to 3D Horizons' website, users will be able to choose an immersive theme to match his or her mood.
"Want to be surrounded by stars and Nebulas? Or the mystery of an underwater city? Each theme is created to envelop you and match the scene – from the background that you see, to the way things behave and how you interact with them"
The 3D desktop will support a variety of themes, a collection of backgrounds, 3D icons, and environmental imagery that creates different places to work. Users can frequent the company's Object Store to access new themes and 3D objects for his or her work space. So, if you want to have a different representation of a folder, you can simply download a new one or upload your own objects in the Object Store.
Basically, if you want your computer to appear as though it is in space, you can do that.
Although the system does not require the use of virtual reality gear, users that want to become even more immersed in their computer can put on a VR headset (such as Oculus Rift or HTC Vive) and witness their computer in an even more 3D space.
By breaking the "2D barrier" the evolved desktop will allow a new way to work with your computer without changing anything in your current operating system.
"You think of your files in a 2D folder right now but you might have different groupings in your head of those files. In 3D, you can actually group those files the way you think of them, not just in a flat grid," according to 3D Desktop Evolved's Kickstarter campaign page.
How are they doing this?
The company is building the desktop on a cross platform 3D system called Unity which can work on almost all video cards, as well as have native cross platforms built in.
If you aren't sure what it's all about, the company has launched a Kickstarter campaign where users can purchase the first space theme for $35, but there are additional purchasing options for more themes.
Take a look at the promotional video for a demo.