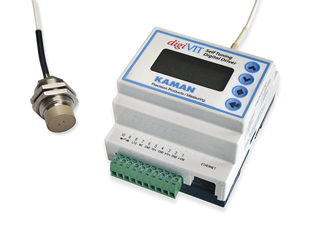 digiVIT Self-Calibrating System from Kaman
Kaman announces the digiVIT transducer. The digiVIT is the most advanced Digital Variable Impedance Transducer for noncontact linear position and displacement sensing available on the market.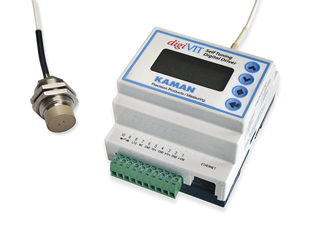 The digiVIT features a self-tuning bridge, which is capable of performing with nearly any sensor, from any manufacturer, as well as any conductive target. The transducer also features simple pushbutton calibration, temperature compensation, and zeroing. Its embedded intelligence ensures that all functions are accessible, with no need to connect to a PC to download a configuration file when changing sensors or performing high level calibrations.
The digiVIT features scrolling menus for intuitive set-up and calibration, as well as ethernet communication capabilities. In addition, it is capable of detecting when no sensors or shorted sensors are present. The large integral digital display makes it easy for users to read all of the transducer's information. The digiVIT is ideal for position, vibration, and proximity sensing, part sorting, process control, laboratory testing, engine dynamics testing, condition monitoring, and more.