Ford's new robots are building cars
Ford has hired some new robotic employees to build its next line of cars.  And even though they are just machines, they can still engage in human-like tasks like shaking hands and making coffee, which make them ideal for working alongside its human workers in the factory.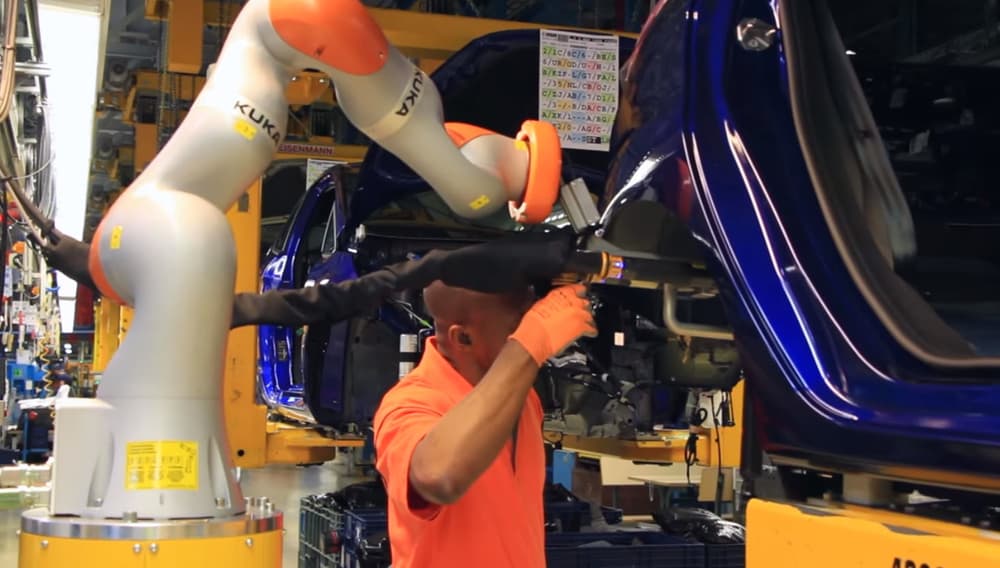 These collaborative robots, or co-bots as the company calls them, are helping workers in the Cologne, Germany factory fit shock absorbers to Ford Fiestas — a task that typically requires pinpoint accuracy, strength, and dexterity.
The company has released the following video, showing off the robots' capabilities, as well as some of their light-hearted potential.
The human employees work alongside the 3-foot-tall co-bots that are equipped with hi-tech sensors to ensure worker safety. The robots can stop work immediately if they detect even a finger in their path.
Fords robot program has been in the works for over two years, carried out in close partnership with German robot manufacturer, KUKA Roboter GmbH. The trial is part of the company's investigations into "Industry 4.0", a term that's currently being used to describe a fourth industrial revolution.
"Robots are helping make tasks easier, safer and quicker, complementing our employees with abilities that open up unlimited worlds of production and design for new Ford models," said Karl Anton, director vehicle operations, Ford of Europe.
The robots are not limited to Ford Fiestas, though. Now the company is testing their abilities with heavy air-powered tools, a job that requires strength, stamina, and accuracy.
So far, the robot has been helpful in achieving these tasks.
Story via Ford (Europe).