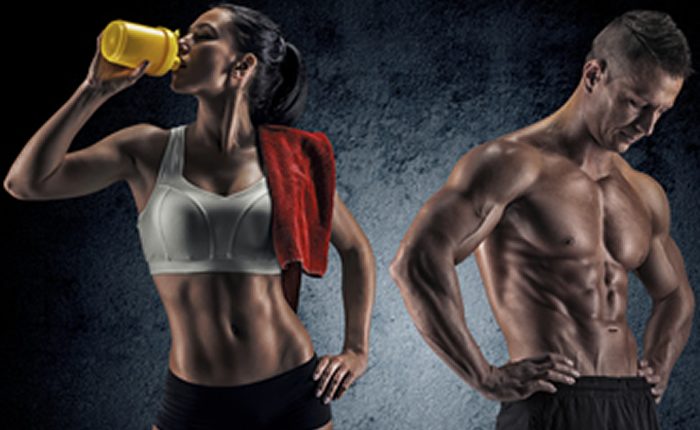 by Daisy Stapley-Bunten.
With the development of apps such as 'Pokémon Go', technology has started to encourage tech geeks to venture outdoors and be active. But not just for the gamer, there has also been a surge in technology for fitness freaks.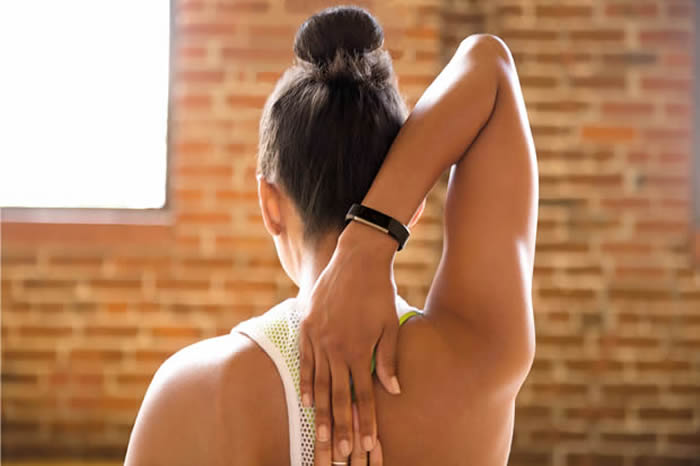 Fitbit: find your fit
The beauty of the Fitbit is its versatility. From heart rate trackers and smart scales, to lifestyle fitness devices, the Fitbit range caters for those who want to monitor their daily energy expenditure, to those more serious about their athletic performance. Fitbit were also the first to introduce automatic, wireless syncing and the first to provide an open API.
Looking in particular at the Fitbit Alta, its slimline design makes it suitable to wear as a casual lifestyle tracking device. Whilst it tracks the usual suspects; sleep monitoring, step counting, calorie counting; there's more to Fitbit Alta than you might think.
Features:
food diary log with entry database
water diary log
reminders to reach 250 steps an hour
challenges to compete with friends
wireless syncing
SmartTrack: automatically recognizes and records select exercises
silent alarm
active minutes and steps/distance/calories burned
clock
manually log exercise
MobileRun which uses GPS to accurately track and log runs, walks and hikes with voice cues
The Fitbit range is divided into 'everyday', 'active' and 'performance' fitness products. The 'performance' products feature elements such as; floors climbed, continuous heart rate monitor, GPS tracking, and music control and notifications.
In addition to its range of wearable trackers, Fitbit also offers a 'smart scale' which tracks body weight, BMI, lean mass and body fat percentage and syncs wirelessly to the Fitbit app. Compatible with all the trackers, the Fitbit Aria scale allows Fitbit users to view not just short term fluctuations, but see long term trends, without the hassle of inputting weight manually into the app every day.
The Fitbit combines style with utility, offering users a device which can be worn every day, both casually and during exercise. Yet despite the device offering casual lifestyle tracking, it does not compromise when it comes to advanced tracking and data analysis for the athletes.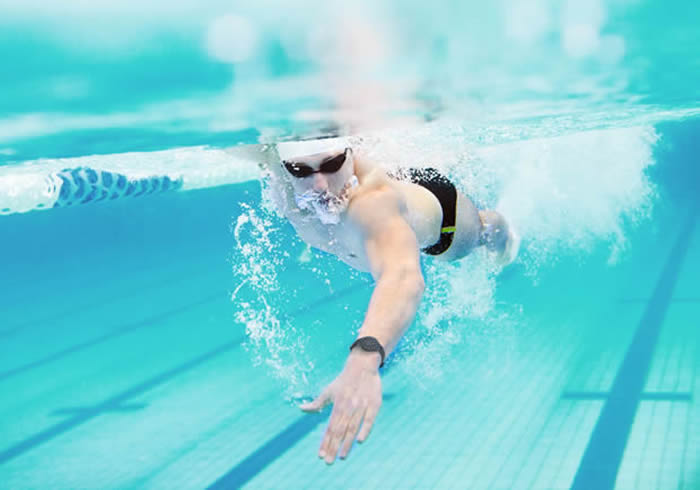 Moov Now: your personal fitness coach
The Moov Now is a different wearable – not just a step-counter, or record-keeper, this wearable is a personal fitness coach. Guaranteed to make you sweat, to help with your form and push you further, the Moov Now is by your side for all the ways you move. With real time motivation, technique assessment and tips, you have a workout companion as the Moov Now talks you through your exercise.
For the lone workout wolves out there, the voice cues can be muted and you can check your progress and form from the data collected while you work. Unlike other devices, the Moov Now is 100% waterproof and sauna proof, allowing you to track your swim in depth; stroke rate, distance, calories, pace, turn times, stroke cycles and individual lap details.
There are several workouts to choose from, from cardio boxing, cycling coaching, circuit training and a variety of walking and running programs; running efficiency, speed endurance, brisk walking, sprint intervals, open training.
Moov Now also tracks active minutes over steps – the Moov Now website explains this is because, 'Our algorithm is designed to go beyond steps. Active minutes take into account intensity and other activities such as swimming and cycling shouldn't be represented as steps. Achieving active minutes requires a higher expenditure of energy that will be more effective towards living a healthy lifestyle.'
This wearable device proved exemplary in the following features:
swim analysis
exercise coaching
sleep monitoring
GPS tracking of outdoor exercise
community (app and website): regular blog updates – suggestions can be voted for and submitted, with feedback from Moov Now incorporated into their updates.
This device is suitable for those who want to push themselves, need encouragement, want to ensure the correct form during exercise or just want to see a breakdown of their workout.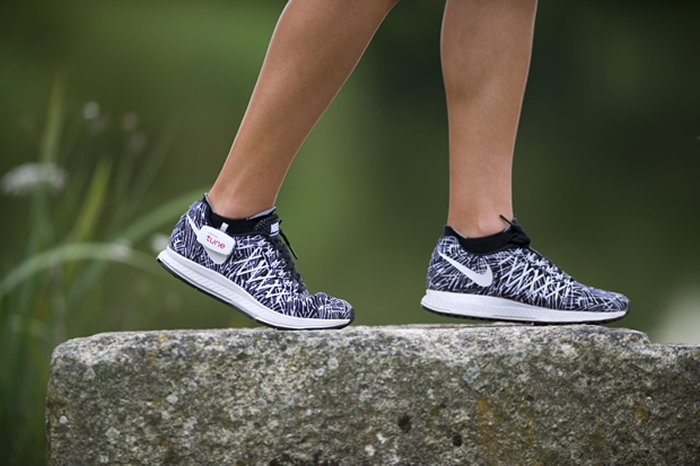 Kinematix TUNE: for those who run
A different kind of wearable to the Fitbit and Moov Now, the Kinematix TUNE affixes to your running shoes.
'Kinematix TUNE is a wearable that applies in-shoe monitoring to both feet at the same time, allowing you to analyse the relevant parameters needed to assess your running form.'
Syncing to a smartphone app, it creates a runner profile to evaluate performance and progression.
Not just tracking how far you have run or how many steps, Kinematix TUNE provides an in-depth analysis of the run. By monitoring both feet in-shoe, the visual analysis on the app shows asymmetries between left and right foot and also the independent heel and ground contact time.
Waterproof, wireless and with a battery life of ten hours in continuous usage and 30 days in sleeping mode, Kinematix TUNE is 'for those who run' exclusively and want to understand their technique and improve. The app also offers a personalized exercise plan with videos demonstrating how to do the specific exercises recommended for you.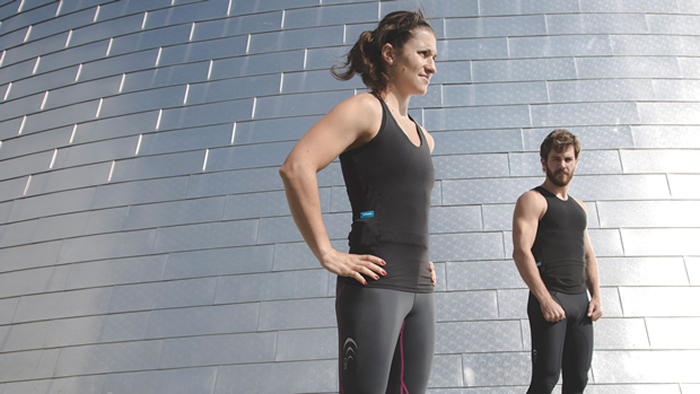 Hexoskin: wearable body metrics
Hexoskin takes the idea of wearable technology to the extreme with smart shirts. 'This is why it has been chosen by four space agencies, three military organizations and professional sports teams worldwide to monitor astronauts, elite soldiers and athletes,' the Hexoskin website declares.
Their smart shirt measures the following:
heart rate zones
breathing rate
minute ventilation
heart rate maximum (HR max)
resting heart rate (HR rest)
heart rate recovery (HRR)
VO2 max
cadence
The smart shirt measures this data with cardiac, breathing and movement sensors and sends the information to the data analysis software 'VivoSense', which allows the user to visualize the results of their workout or general health. Not just for casual exercisers, this technology has recently been used to monitor the vitals of the Free Flight Physiology Project Team in Karakorum, Pakistan as they paraglide.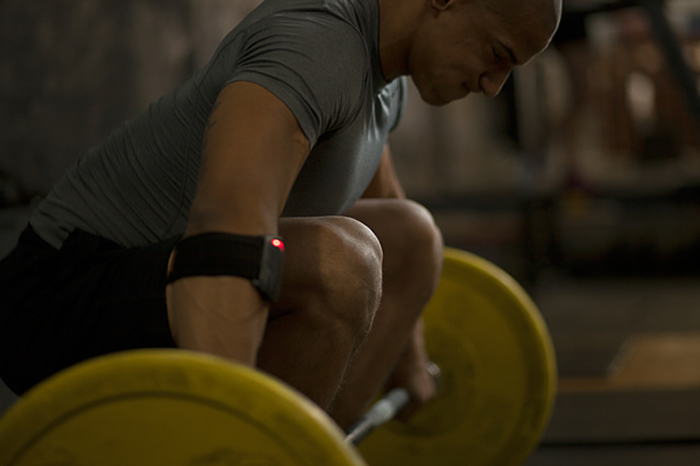 Push: power is everything
The PUSH Band stands out from the crowd. It is more than just a lifestyle fitness gadget, and is designed to be used under more specific conditions. Whilst it does not track everyday movements, sleep cycles or heart rate, this technology measures something that the others do not – power.
Intended for the more serious athlete, this technology is 'the first scientifically validated wearable device,' Push's website claims. 'PUSH measures key metrics that have been scientifically proven to be excellent predictors of athletic performance: power and velocity. You can also use PUSH to objectively quantify your effort in the gym using the Total Work (TW) metric, measured in Kilojoules (kJ).'
Not just a glorified calorie-counter, the PUSH band records the power put into an exercise, which can be measured in Watts. 'Power can be used to determine which athlete exerted themselves more' during an exercise.
PUSH measures the power and velocity of each rep performed of an exercise. This data then allows the athlete to see a visualization of how hard they worked, whether too much or not enough, to then understand whether the reps or weight should be increased or decreased accordingly.
Specifications include:
wireless: enhanced Bluetooth 2.1
sensors: accelerometer, one gyroscope
battery: built-in rechargeable Lithium Polymer battery, power consumption is 350mA during charging, seven hours continuous motion recording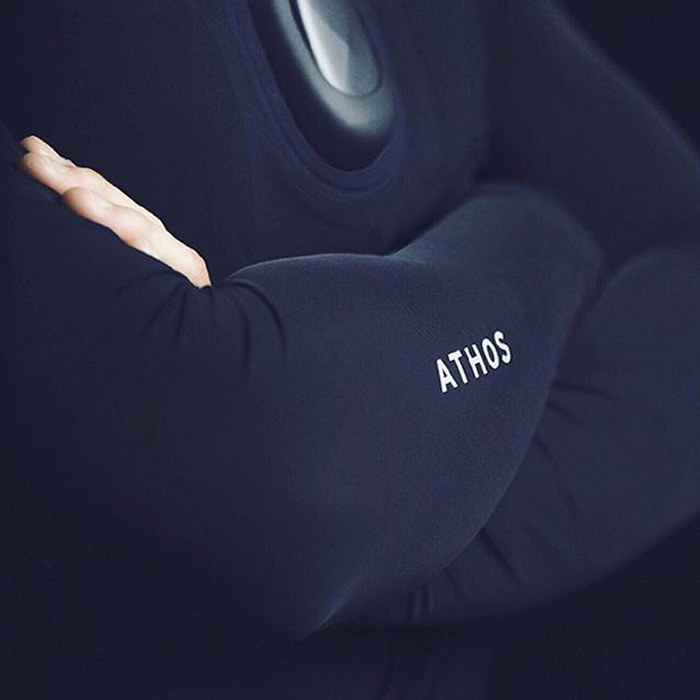 Athos: building a better human machine
Despite what you may think, this is not Iron Man's t-shirt.
This is Athos smart performance apparel 'that monitors your biosignals and distills them into meaningful insights,' the Athos website states. Athos has created upper body and lower body apparel with integrated advanced biosignals monitoring technology.
The apparel contains 'seamlessly integrated non-adhesive biosignal sensors.' These include EMG sensors to monitor muscle activity and heart rate sensors. There is then a 'Core' on the apparel which collects the data and delivers it straight to a mobile app.
EMG technology is no longer limited to professional athletes – now average consumers can access this specialized technology to monitor their workouts. The EMG sensors read the electrical activity generated by muscles and this data is then sent to the mobile app. This allows the user to track the following:
muscle effort
muscle activation
balance
heart rate
This allows the user to see how hard they've worked, what muscles they're working, if the muscles are working symmetrically, etc. From this data, analysed in real time and clearly visualized on the app, users can work on their form and maximize the impact of their workout.
This technology provides more of a visual understanding for athletes to understand how they engage with their muscles, whilst also depicting how much effort they are putting in at the same time. Arguably, Athos offers a more comprehensive data collection than PUSH, with a better visualization of the workout.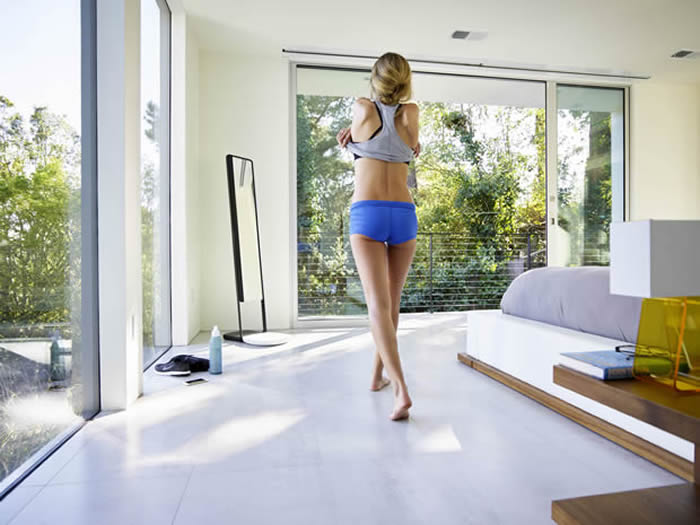 The Naked 3D Fitness Tracker: the world's first home body scanner
At first glance, a modern mirror next to sleek scales; on closer inspection, a turntable with external sensors that operate in unison with a 3D fitness tracker mirror. Naked will revolutionize weight tracking, no more scales with one temperamental reading depending on the floor surface. Naked tracks body metrics from measurements to accurately show body fat percentage and weight, and visualizes the data in a 3D image of the user on the Naked app.
Naked uses Intel RealSense Technology to create the body model, and 'the sensors use infrared light in a manner similar to an Xbox Kinnect or your TV remote control,' the Naked website explains.
So what's the difference with these scales and body fat measurement scales? Naked explain: 'Traditional bioimpedance scales are typically ±8% accurate and are especially susceptible to things like skin conductivity and changes in hydration…[Naked] relies on body volume and weight to calculate body fat with ±2.5% accuracy…It's essentially a virtual hydrostatic (dunk tank) test.'
But it doesn't stop there. The Naked records the weigh-ins and constructs a time-lapse of the user's fitness journey, allowing them to see a visual representation of the weight loss and muscle gain highlights over the body.
Naked is due to ship the first pre-order in March 2017.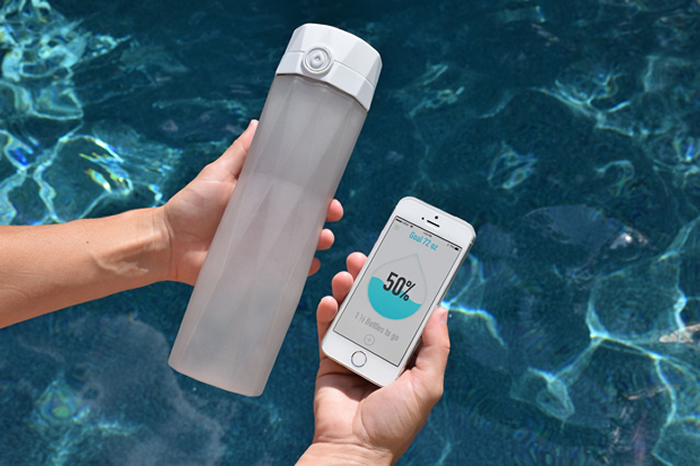 Hidrate Spark: the sleekest, simplest way to stay healthy
So with all this technology to get you out and about, with reminders to move, encouragement to push yourself further, and the ability to track your progress and form, you'll be working hard. Sounds like thirsty work. That's where the Hidrate Spark comes in.
A smart water bottle that gives the user a customized hydration goal based on their age, weight, height and activity level, shows a hydration history, syncs with popular fitness trackers such as the Fitbit, and provides notifications via its app.
But that's not all. While tracking the user's water intake, this water bottle even glows when it feels neglected, reminding you to hydrate when you haven't taken a sip in a while. With a six month battery life this bottle ticks all the boxes; it is dishwasher safe, made from BPA-free Tritan plastic and is leak-proof. I'll drink to that.