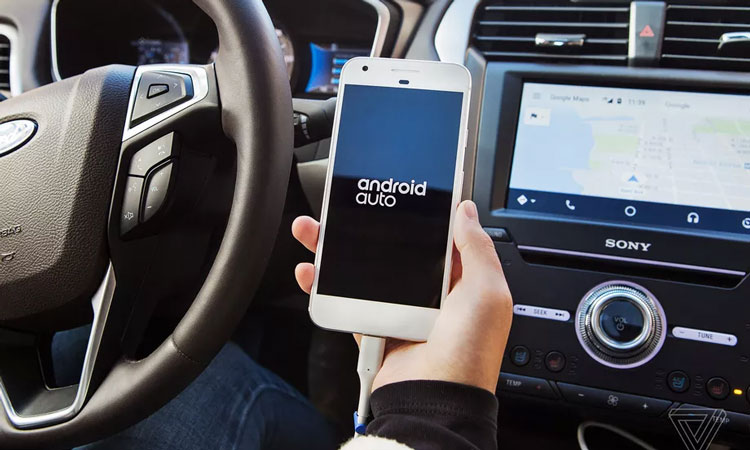 Google's Android for automakers speeds up time to market
Parked outside last year's Google I/O developer conference, Google's luxury sedan might have looked like just another sports car. But what was inside captured the interest of automakers. And now, some automakers are buying into what they found, despite long-held fears of giving up too much control to outsiders like Google.
"The traction we're seeing in the car space is just ridiculous," Patrick Brady, Vice President of engineering for Android, told The Verge. "It's surprising even to us and has caught us off guard."
Last year, Google introduced a new version of Android, the mobile operating system designed for smartphones and tablets. Google tweaked Android so automakers could use it to run the infotainment system in cars, as well as functions like heating and cooling, opening and closing the windows, and even the instrument cluster where drivers find the speedometer and fuel gauge.
Android engineers retrofitted the Maserati Ghibli with a vertical 15″ touchscreen to showcase what this new infotainment user interface — and all the apps that go with it — might look like.
The concept marked a turning point for automakers that have traditionally used their own proprietary software — a strategy that costs millions of dollars and years to develop, only to be surpassed by the technology and ease-of-use found in a smartphone.
Automakers began questioning why they would build something from scratch once they saw Google's demonstration, which was more advanced than in-house systems that had been under development for a year, Brady said.
Automakers, from Hyundai to Jeep, are already adopting Google's Android Auto product, an in-car platform released in 2015 that brings the functions and look of a smartphone to the vehicle's central screen. Its closest competitor, Apple CarPlay, introduced a similar product to production cars that same year.
Android Auto is in cars, but it's not an operating system. It's the HMI layer — or a secondary interface — that sits on top of the operating system. Android is an open-source mobile operating system that runs on Linux and is designed for smartphones and tablets.
Using the Android operating system in cars is a much bigger deal.
"Android Auto and Apple CarPlay was a way of giving consumers what they wanted without letting Google or Apple through the gate," said Jim Hines, Research Director at Gartner. "But now, Android as the operating system, well that's really the heart of the system."
Audi and Volvo are the first automakers to publicly express interest in bringing the Android operating system into their cars. The two automakers announced partnerships with Google ahead of I/O developer's conference that kicks off today. Google will have demonstrations of running on an Audi Q8 and a Volvo V90 sport utility vehicle.
Volvo says it expects to start shipping new cars with an Android operating system in about two years, a spokesman said. Audi is taking a more cautious approach. The company says it hasn't decided whether to bring Android in production cars, but is working on concepts, a spokeswoman said.
Audi says using Android would allow it to speed up development of its infotainment systems and tap into the millions of Android developers who create and program new apps and functions.
For consumers, this could mean the infotainment systems found in cars might finally meet the same level of functionality and design found on their smartphones.
Google believes taking Android and moving that into the car as a kind of a turn-key platform will dramatically lower the cost of development for automakers.
Automakers including Honda, Hyundai, and GM have used older versions of the Android operating system in cars. And Google has worked with automakers to weave its services like Google Maps into a car's proprietary software. But both methods were slow and expensive. For example, bringing Google Earth to Audi vehicles in 2012 model-year vehicles took years, Brady said.
"We're hoping we see the same kind of pick up and innovation that we saw in smartphones when Android came out and people were churning out smartphones at a dizzying rate," Brady said. "We think we'll see the same thing in automotive, where cars can innovate faster and come to market faster."
In other words, Google has an opportunity to burrow even further into the lives of consumers.
"I feel it's reasonable, where in the future, most of the cars have an infotainment system powered by Android," said Brady. "A car is a pretty important computer that a person interacts with on a daily basis," he continued, noting that a person in the US spends on average 50 plus minutes in their car every day. "If they're using Google services in the car, whether it's Google maps or Google Assistant and they have a good experience, they're more likely to use those services on other devices, where maybe we do have a way to monetize through ads or something else."
The early adoption of Android in cars is ramping up just as Waymo — the Google self-driving car project that spun out to become a business — is speeding up its plans. The two areas seem destined to one day collide.
"You do need an infotainment platform even in self-driving cars we think," Brady said, emphasizing that there are currently no plans to work with Waymo. "A modern platform like Android gives you the ability to do more seamlessly integrate with the car. We think there are a lot of opportunities out there."