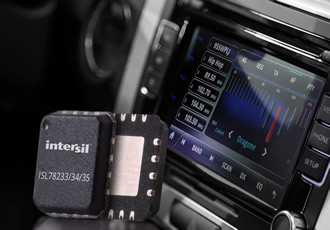 Intersil Synchronous Buck Regulators Deliver POL Conversions
Intersil Corporation announced a family of monolithic synchronous buck regulators that step-down 5V and 3.3V primary rails to point-of-load (POL) inputs as low as 0.6V for GPUs, FPGAs, DSPs and SOCs. The highly efficient ISL78233, ISL78234 and ISL78235 deliver 3A, 4A and 5A, respectively, of continuous output current to infotainment head units and advanced driver assistance systems (ADAS) employing forward-looking smart cameras to detect and classify objects. The pin-compatible sync buck regulators allow system designers to make a simple BOM change and drop in the right device to their PCB to address the varying load requirements of entry-level to luxury car models.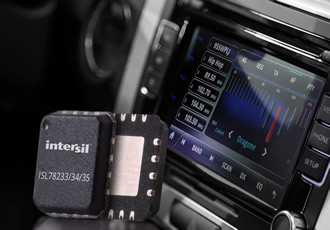 The ISL7823x synchronous step-down DC/DC converters use a current mode control architecture to deliver fast transient response and excellent loop stability. They integrate low RDSon high-side PMOS and low-side NMOS MOSFETs to reduce external component count and power losses while offering 100% duty cycle operation. The ISL7823x combine a switching frequency of 2MHz with guaranteed 100ns (max) minimum on time to avoid AM radio channel interference and allow designers to use lower value inductors and smaller capacitors.
The ISL7823x family's guaranteed minimum on time provides the wide step-down ratio necessary to deliver a 1V POL supply at high switching frequencies. Competing solutions often do not guarantee the low duty cycle needed to deliver very low outputs to the applications processor at switching frequencies above the AM band. This increases the risk of failing the system designer's electromagnetic interference (EMI) requirements, which leads to costly redesigns and further testing.
"The pin-compatible ISL7823x family provides automotive customers a reliable point-of-load solution to manage different stuffing options with the same PCB layout for their entire new vehicle line up," said Philip Chesley, senior vice president of Precision Products at Intersil. "Our sync buck regulators address the load requirements of single-, dual- and quad-core processors in a single footprint, allowing carmakers to easily differentiate models."
Key Features and Specifications of ISL7823x Buck Regulators
Support input voltage range from 2.7V to 5.5V and deliver high efficiency up to 95%
100ns guaranteed phase minimum on time for wide output regulation
Adjustable switching frequency from 500kHz to 4MHz, with 2MHz default
External synchronization up to 4MHz
Provide 1% reference accuracy for tight regulation, and Internal 1ms soft-start, or adjustable external soft-start
Soft-stop output discharge during disable
Fault protections include over-temperature, over-current, output over-and under-voltage, input under-voltage lockout, short-circuit, and negative over-current
AEC-Q100 qualified for operation from -40°C to +125°C
Wettable flank QFN package allows optical inspection of solder joints for lower manufacturing cost
The ISL78235 can be combined with the ISL78233 3A synchronous buck regulator, ISL78234 4A synchronous buck regulator, ISL78113A synchronous boost converter, ISL78201 40V/2.5A regulator, ISL78206 40V/2.5A synchronous buck controller, and ISL78302 dual LDO to provide a complete off-battery to POL power supply for an automotive infotainment head unit.
Pricing and Availability
The ISL78235 5A synchronous buck regulator is available now in a 5mm x 5mm 16-lead WFQFN package and is priced at $2.75 USD in 1k quantities. A 3mm x 3mm TQFN package is also available. The ISL78235EVAL2Z evaluation board can be purchased for $67.80 USD each.