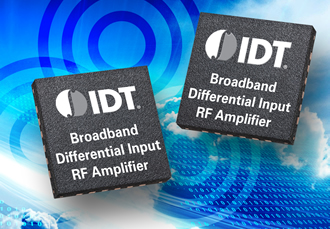 IDT Announces Broadband Differential Input RF Amplifier
Integrated Device Technology (IDT) introduced a broadband differential input RF amplifier that greatly simplifies designs for transmitters utilizing RF digital-to-analog converters (DACs) and/or integrated transceivers used in a wide variety of base stations and public safety infrastructure.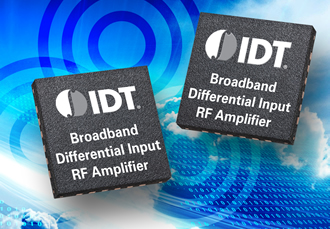 IDT's latest RF offering, the F1423 integrates a high-performance amplifier and balun in one small package, providing a differential input that aligns with the standard differential Tx outputs of RF DACs and integrated transceivers. Together with its excellent wideband RF performance, this results in a much more streamlined transmitter design than competitive alternatives for today's advanced wireless applications.
The F1423 delivers wide bandwidth–from 600 MHz to 3000 MHz—to address a variety of RF transmitter applications with a single device. Also, this high-performance amplifier delivers 13dB typical gain, 20 dB Common-Mode-Rejection-Ratio (CMRR) and very high linearity of 42 dBm OIP3 @ 2000 MHz.
"Today, the F1423 joins our rapidly expanding lineup of uniquely innovative RF products. The F1423, with its internal balun and matching, reduces solution area and cost and simplifies the transmitter design process," said Chris Stephens, general manager of IDT's RF division. "IDT's portfolio spans passive as well as active RF components, and our use of proprietary innovative design technology enables us to deliver cost reducing, SNR-enhancing, highly reliable products in very small packages."
The F1423 features a 50 ohm differential RF input and 50 ohm single-ended output with up to 22 dBm of output power at 1dB compression. It is ideally suited for the high crest factor, high bandwidth, complex modulated 2G, 3G, and 4G signals that are output from RF DACs and integrated transceivers. It operates with a single 5 V supply at a typical supply current of 120 mA.
Pricing and Availability
The F1423 is available now in a 4 x 4 mm 24-QFN package. Pricing is $3.17 each for a lot of 10,000.