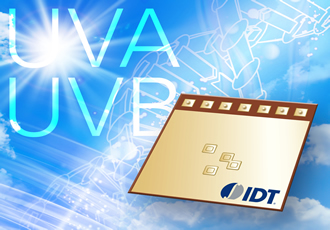 IDT Introduces High-Sensitivity 2-Channel UVA and UVB Light Sensor
Integrated Device Technology introduced a light sensor that accurately detects levels of the UVA and UVB light spectrum, offering new health and wellness capabilities for wearables and other mobile technology. Developed by engineers at recently acquired Zentrum Mikroelektronik Dresden AG (ZMDI®), the two-channel ZOPT2202 sensor has ultra-sensitive photodiodes which, when coupled with the sensor's patented infrared light suppression, deliver a high-performance UV solution.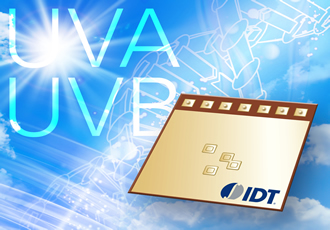 In addition to health and wellness applications, the sensor enables "contextual awareness" in applications.
IDT will demonstrate the sensor at booth 70536 during the 2016 Consumer Electronics Show this week in Las Vegas.
"The risks associated with UV rays—whether getting too much or too little–are well documented. Overexposure can lead to skin cancer, and underexposure can result in seasonal affect disorder (SAD) or low of levels of Vitamin D," said Uwe Guenther, product line director, Mobile Sensing, at IDT. "The ZOPT2202 sensor accurately senses the UVA and UVB light spectrum, offering consumers a better understanding of their environment so they can monitor and avoid risks associated with UV exposure."
The global market for mobile sensing solutions is expected to see strong growth with as many as 1.5 billion units in use expected by 2018. IDT's next-generation UV sensor is the latest product in the company's portfolio of leading environmental sensing solutions for the mobile industry.
The ZOPT2202 sensor is available in a compact ODFN (2.0×2.2×0.7mm) package.
Key Features of the ZOPT2202
• Detectable UV index from 1 to >11
• Operating range of -40°C to 90°C
• Supply voltage 1.7V to 3.6V
• Temperature compensation
• Package optimized for stray light suppression
• Proprietary filter process providing stable response over angle of incidence
• Configurable filters for high volume applications
Key Applications for Smart Phone and Wearable Platforms
• Detection of overexposure and underexposure to the sun's UVA and UVB rays
• Indoor and outdoor contextual awareness
• Improved image quality for mobile devices
Availability
The ZOPT2202 is available in production quantities; mobile and wearable customers can order evaluation boards by contacting IDT directly via its regional ZMDI offices