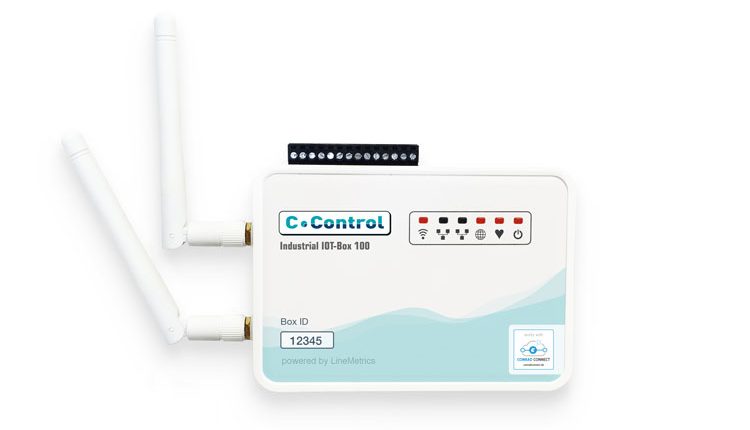 Industry 4.0 becomes reality with C-Control Industrial IoT-Box 100
Conrad Business Supplies has introduced, in cooperation with LineMetrics, its C-Control Industrial IoT-Box 100 – a complete and easy-to-use solution for monitoring various key parameters in companies' manufacturing facilities. The solution enables the utilization of sensor data for ongoing process optimization, efficiency improvements or potential problem prevention on site.
C-Control Industrial IoT-Box 100 monitors in real time the operation of equipment, energy consumption in buildings, oil tank levels, room temperature in offices or any combination of several different sensor values, wherever placed, in small or large businesses. It is the first convenient solution that allows connection and a complete digital overview of machine functions, buildings or manufacturing plants.
The C-Control Industrial IoT solution consists of powerful hardware, communication and cloud services, easing IoT implementation. Thanks to the easy-to-use plug and play concept, businesses are able to launch a scalable monitoring system/ network without vast IT investment and programming effort.
With 8 universal inputs (0-10V) and Modbus RTU 485 support, sensor data is recorded in high speed and transferred to the C-Control Industrial IoT Cloud via the mobile network. The pre-activated SIM card and global GSM coverage ease the connectivity without any headaches so customers can concentrate on optimizing and evaluating the data.
With a choice of several hundred compatible sensors, Conrad offers the right sensor for every application and, if necessary, for expanding the sensor network.
Benefits with transparency
In the C-Control Industrial IoT Cloud, powered by LineMetrics, real objects are displayed digitally and additional information can be easily added. In this way, the petrol level of a tank, its location, volume, serial number, filling material, documents and other instructions, can be stored together. All the acquired data is available 24/7.
In addition, the measured values enable a more comprehensive analysis as influencing factors are visible (i.e. area measurements when comparing the energy consumption of two branches).
Alarms, based on freely definable threshold values, help to recognize and avoid problems at an early stage. The acquired data can be further processed via open interfaces in existing IT systems.
Conrad Connect integration
The C-Control Industrial IoT Cloud is also integrated into the Conrad Connect meta cloud. Users can display captured data in clear dashboards and process it according to their own rules. It allows the monitoring in various ways, such as for the detection of a fault in a system, for measuring energy consumption or the fill level in tanks.
All benefits at a glance
More than just data acquisition – allows settings management and online analysis in the browse
Hundreds of compatible sensors from Conrad Electronic via eight universal inputs (0-10V) and Modbus RTU 485 support
Plug and Play with hundreds of compatible sensors such as energy meters, temperature, light barriers, etc.
No programming skills required – allows convenient online configuration
Worldwide use – offers global GSM coverage at no extra cost
Encrypted communication to high-security data centers in Europe
Innovative asset management – captures entire objects, not just data made possible through storing properties, documents and important additional information.
Conrad Connect integration – offers even more functionality
Innovation through a strong partnership
C-Control Industrial IoT-Box 100 has been made possible through the cooperation with LineMetrics. The Austrian based company is a specialist in the Internet of Things. Its solutions are already successfully used in many countries. In combination with the strong C-Control brand, this innovative solution has been released and is now available throughout Europe via Conrad Electronic SE's sales channels.