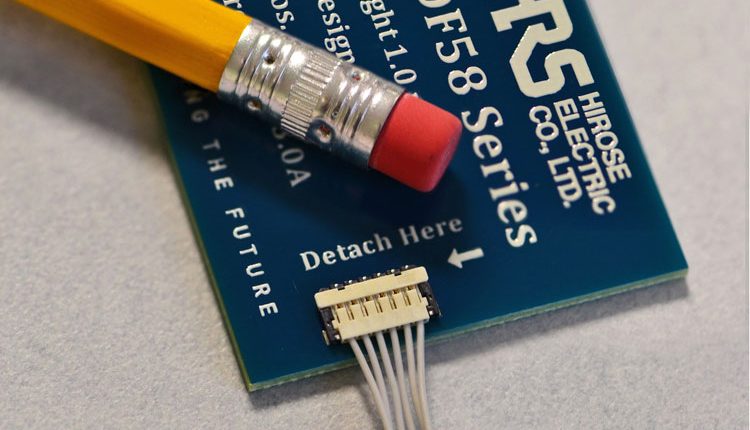 Industry's lowest profile wire-to board connector supports high currents
Hirose, a leader in the development of innovative connector solutions, has created a low-profile wire-to-board power connector that enables the continued miniaturization of consumer and portable electronic devices.
With a pitch of only 1.2mm and a stacking height of only 1.0mm, the DF58 series connector presents the industry's lowest profile when used with 28AWG wire.
The DF58 series supports higher currents up to 3.0A, making it ideal for a wide range of applications.
The DF58 series power connector features a Vertical-insertion / Swing extraction (ViSe) lock that provides a robust and reliable connection. The ViSe lock combines a positive lock mechanism that produces a high retention force to prevent cable removal with a friction lock that prevents connector floating when mated. The double-lock design ensures rugged performance for devices that are often exposed to high vibration, shaking or rattling.
The DF58 has a two-point clipping contact design that optimizes the contact force. This lowers contact resistance, and reduces temperature rise, further reducing component degradation.
"The DF58 series is part of Hirose's comprehensive power connector product offering that supports a wide range of applications," said Rick van Weezel, Vice-President of Sales and Marketing for Hirose Electric USA. "Offering the lowest profile on the market, the DF58 series meets the growing demands of advanced consumer and portable products that require both miniaturization and higher current carrying capability. "The DF58 is well suited for devices such as cameras, drones, laptops, robots, smart phones, tablets, wearable devices and other compact devices with small batteries. The DF58 series wire-to-board power connector has a rated voltage of 100V AC/DC and an operating temperature of -55 to +85°C.