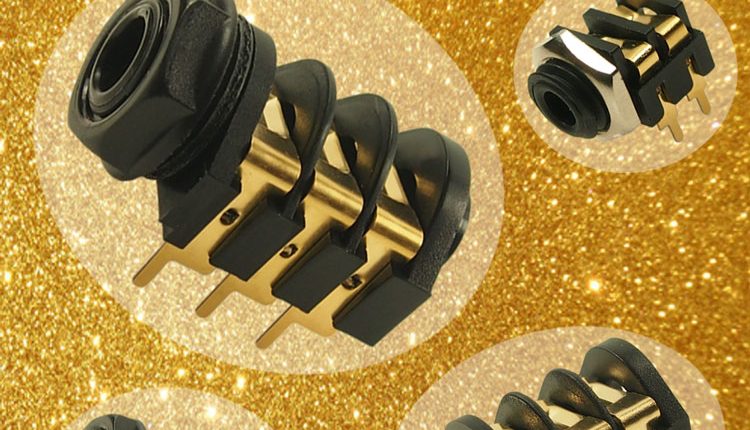 Jack Sockets Feature Gold Plated Contacts
CLIFF Electronics continues to expand their range of audio jack sockets with the introduction of a socket featuring gold plated contacts. Suitable for low level signals and high-surge voltages gold plated contacts offer a high reliability connecter solution.
The new gold plated contact jack sockets are available two diameters, 6.3 or 3.5mm to mate with the most popular jack plug sizes. The sockets are available in stereo or mono form, may be PC or panel mounted, have on-board switch contacts and are available with an internal or external thread.
Complementary accessories include black or grey combined nut and bezel, EMI/RFI screen (6.3mm diameter only) and a recessed mounting plate to facilitate flush mounting of the socket.
"Reliability is critical for both live performance and permanently installed systems. Gold plating provides low resistance and low oxidization contacts and extended connection cycle life," commented John Hall, Managing Director of Cliff Electronics."
Cliff Electronics is one of the longest established manufacturers of components and connectors for audio, engineering, instrumentation, medical, lighting and vending applications and we are a recognized market leader in their design, development and manufacture."
Cliff has been manufacturing jack sockets since 1964 and has an unparalleled range of products including the S1 industry standard ¼" offset nose space saving narrow body jack socket offering equipment manufacturers higher PCB packing densities.
The S9 range of stereo switched jack sockets is engineered with advanced contact tip technology to accept the widest range of Far Eastern plug shapes. A range of sealed ¼" jack sockets minimizing contact contamination due to dust and dirt commonly found in fan cooled equipment or products which are infrequently used and spend time in storage.
Cliff Electronics patented range of 'Stack Jack' sockets allow two sockets to occupy the same PCB space as a single conventional socket.
This offers increased printed circuit board density with greater reliability than vertical jacks for mono and stereo applications. Options include selection of stacking spacer thickness to accommodate flexible fixing choices.
Cliff also manufactures Optical jack sockets which are widely used in audiophile, professional audio and broadcast systems. Optical connection provides high immunity to noise and crosstalk ensuring high quality audio interconnection between equipment.
Cliff jack sockets are used by major global audio equipment manufacturers in the music and broadcast industries and the company can also offer customers a complete cable and lead design and manufacturing service, including over-molding, to meet specific application requirements.
Typical applications include musical instruments and amplifiers, effects pedals, audio and educational equipment, mobile systems for exhibition audio tours, PDAs and personal audio products.