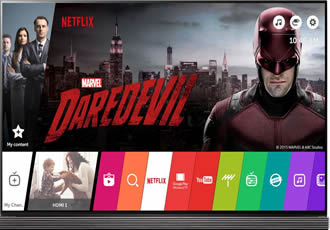 LG Electronics announced that LG has initiated a global partnership with Netflix to facilitate the expansion of Netflix's global on-demand Internet streaming operations beyond the Internet TV network's already established markets (the Americas, Western Europe, Australia, New Zealand and Japan). The expansion will bring an extensive library of high-quality content, including 4K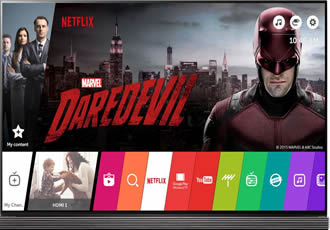 HDR-mastered original TV series, to more markets in Asia, the Middle East and Europe. LG has been chosen as a primary global business partner of Netflix, due to the superior picture quality and performance they lend to the Smart TV industry and the Netflix viewing experience alike. At the time of Netflix's launch LG and Netflix will combine efforts to provide prepaid access to the Netflix service.
Among Netflix's acclaimed original TV show series are Marvel's Daredevil, Orange is the New Black and Sense8. The company also plans to provide global members with its HDR-mastered original TV series Marco Polo. At the 2016 International Consumer Electronics Show (CES) in Las Vegas from January 6-9, visitors to LG's booth (#8204 Central Hall, Las Vegas Convention) will even be able to watch a special 4K HDR clip from Netflix's popular Dolby Vision™-mastered Marvel's Daredevil series. Netflix has praised LG's 4K HDR OLED TVs for having the purest black, contrast and color vibrancy, all factors which ensure enhanced details and greater dimension when displaying their content.
"Our global partnership with LG will help entertainment lovers worldwide discover and enjoy Netflix," said Scott Mirer, vice president of device partner ecosystem at Netflix. "We look forward to delighting our members with cutting edge technology and the ability to watch their favorite series in 4K and HDR."
"We are excited to be the global business partner of the world's most popular content provider Netflix," said Brian Kwon, President and CEO at LG's Home Entertainment Company. "From our side, LG will continue its dedication to innovating display and audio technologies in order to offer global consumers a superior 4K and HDR viewing experience. By adopting the most promising cutting-edge technological advancements, LG will continue to lead in the global premium TV market."