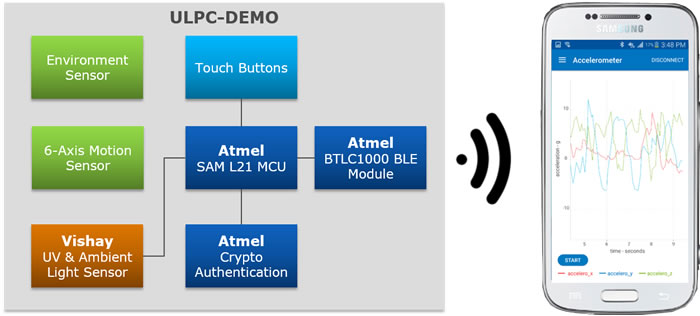 Lowest power BLE sensor node for IoT applications
Microchip Technology has released a demonstration platform for the world's lowest-power Bluetooth Low Energy (BLE) sensor node. The platform comes complete with the award-winning ultra-low power BTLC1000-certified module, a SMART SAM L21 Cortex-M0+ MCU, Bosch sensor technology and a complete software solution.
Low power, a smaller form factor and quick time-to-market are critical factors in making the billions of 'smart' and 'connected' products a reality in the rapidly growing IoT market. Microchip's complete BLE sensor node demonstration platform integrates all these critical factors. When requiring low power and smaller form factors, the kit integrates the BTLC1000-MR110CA BLE module which uses the world's lowest power and smallest BLE solution, delivering at least 30% more power savings compared to existing solutions and packaged in an ultra-tiny 2.2X2.1mm Wafer Level Chipscale Package (WLCP). The platform also includes the SAM L21 that achieves a ULPBench score of 185, the highest recorded score for any Cortex-M0+ while running the EEMBC ULPBench, with power consumption down to 35µA/MHz in active mode and 200nA in sleep mode. By using these components, it is possible to increase battery life up to four times longer than current solutions on the market.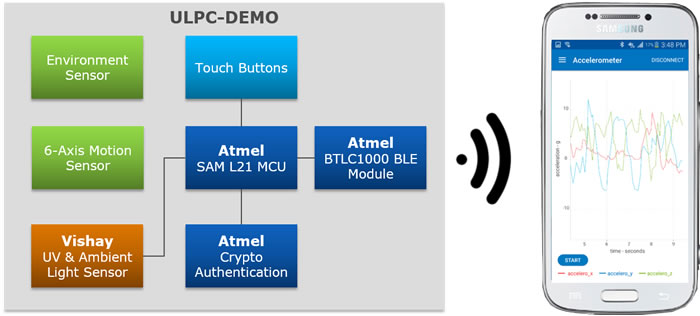 The kit also includes the latest generation Bosch 6-axis motion (BHI160) and environment (BME280) sensors that can be used for a wide variety of sensing applications. The BLE demonstration platform is an out-of-the-box solution that comes complete with source code, hardware design files, user guide and Android application source code that enable designers to bring their products to market faster.
"Microchip is continuing to release new innovative tools to enable more IoT developers to get their differentiated products to market, faster," said Rod Drake, Vice President of Microchip's 32-bit MCU business unit. "This new demonstration platform not only triggers an opportunity to inspire more IoT developers to design next gen products, the platform also highlights innovative ways of integrating sensor technology with low power MCU & connectivity for applications running on traditional coin cell batteries."
"Microchip's new BLE sensor node platform provides an excellent demo for sensing systems in next-gen IoT applications," said Jeanne Forget, Vice President Marketing, Bosch. "With the latest applications in personal health and fitness, indoor navigation, wearables, gaming, context awareness and augmented reality, sensors are required for a more immersive experience, and our sensors enable this experience for tomorrow's applications." The Ultra Low-Power Connected Demonstrator Platform is available today.