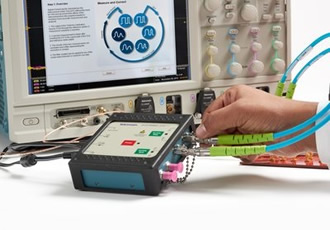 New Solution Boosts Accuracy of High-Speed Signal Measurements
Tektronix, Inc has introduced a new solution to simplify the process of characterizing and de-embedding the effects of cables, fixtures and other interconnects for more accurate and repeatable measurement results. The solution consists of SignalCorrect software and the TSC70902 calibration source and works with Tektronix DPO/MSO70000 real-time oscilloscope.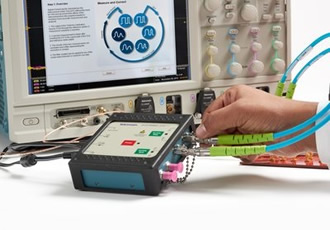 Various types of interconnects such as cables, fixtures, adapters or RF switches are used to connect the signals on a device under test (DUT) to an oscilloscope. As signal speeds increase, interconnects impact signal characteristics and can lead to distorted eye shapes due to ISI, parasitics, delay, impedance mismatch, losses and variability. Until now, characterizing and de-embedding interconnects has required expert know-how and the use of expensive specialized equipment. With the new Tektronix solution, even novice engineers can quickly and easily perform these tasks using a standard high-speed real-time oscilloscope.
"As speeds increase across the electronics and communications industries, the need to remove effects of interconnects from high-speed measurements is becoming a much more common requirement than in the past," said Brian Reich, general manager Performance Oscilloscopes, Tektronix. "With SignalCorrect software and our new calibration source we're making previously complex tasks like characterizing and de-embedding the interconnects a routine part of performing high-speed measurement and analysis."
To simplify the interconnect characterization process, SignalCorrect provides step-by-step guidance from initial set-up through to measuring insertion loss and creating and applying filters. The software is designed for intuitive operation with a friendly GUI and detailed information that guides the user through the process using both text and graphical content. This powerful software supports creation of multiple filters from a single measurement and enables comparison of raw waveforms with different filter designs.
The standalone TCS70902 calibration source uses a compact form factor for placement closer to the interconnect under test (IUT) for more accurate measurements. Two 9 ps fast edge outputs enable dual input measurements and full de-embed of single-ended, differential and common mode signals. This fast rise time enables users to characterize at speeds beyond 50 GHz with an ultra-performance oscilloscope. The unit can also be used as a source for other applications.
Pricing & Availability
SignalCorrect software and the TCS70902 calibration source are available now worldwide. Contact your local Tektronix sales representative for pricing details.