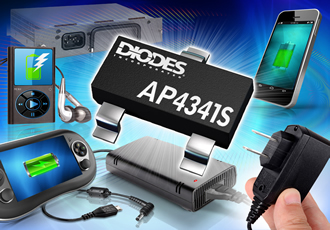 Output Voltage Detector Improves Transient Performance of Primary-Side Regulation Systems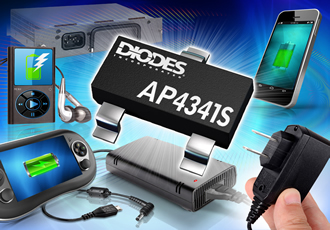 Offering a high-performance and cost-effective solution for power adapters and chargers used in portable and consumer applications, the AP4341S output voltage detector introduced by Diodes Incorporated uses a patented design to address the need for fast transient performance in primary-side regulation systems.
The AP4341S works in conjunction with primary-side regulation controllers, such as Diodes' AP3776 or AP3785 devices, to monitor the secondary-side voltage and provide a periodic 'wake-up' signal to the controller, coupled via the transformer, when that voltage drops below a certain threshold. Fast detection, with a pulse at 33kHz, delivers improved transient performance and greater efficiency, supporting green-mode applications through reduced standby power losses.
Offered in a SOT23 package and requiring no external components, the AP4341S provides a highly cost-effective PSR solution with a price of $0.065 each in 1000 piece quantities.