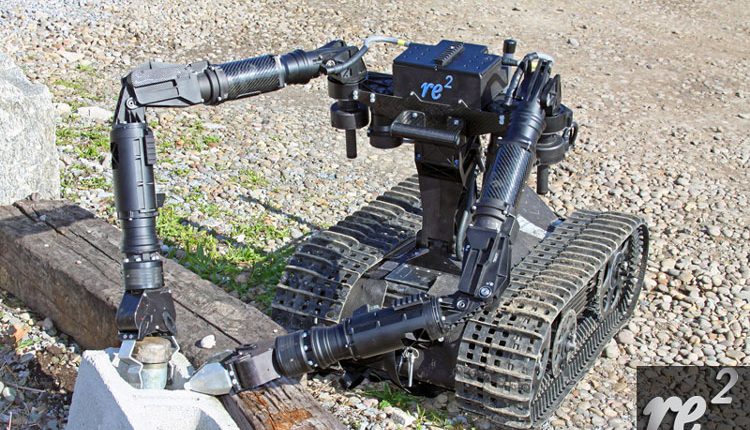 Robots can now lend combat medics a helping hand
Often forgotten, it is also the combat medics that are the heroes when it comes to warfare, there are truly on the front lines and rush towards dangerous events like explosions or gunfire while others disperse, attempting to save and transport the wounded away from battlefields.
In the course of reaching, assessing, and treating a wounded soldier, medics step right into harm's way, and have to be fearless.
With this in mind, RE2 Robotics is developing a robotic arm that can assist combat medics in making their lifesaving runs go quicker. The company, located in Pittsburgh, PA, makes robots that manipulate equipment.
The robotic medical system, called 'Lifeline,' will help combat medics maneuver and evacuate wounded soldiers under hostile conditions, explained Jorgen Pedersen, RE2's President and CEO.
Many medics and soldiers have been injured or killed while trying to save others under hostile conditions, Pedersen said. So he and the engineers at his company sought to determine how unmanned systems could best reduce the risk of injury to medics and soldiers when attempting to rescue and extract wounded soldiers in hostile or dangerous situations.
Sending a Lifeline
After company research, engineers began work on Lifeline, which can be installed on an unmanned ground vehicle by a single person in under ten minutes.  Once installed, the robotic lift will help a single soldier to lift a casualty from a standard NATO litter to the bed of the vehicle, he added. A litter carrier is a light, stable device that looks something like a rolling bed on wheels and is pushed by soldiers to transport injured persons over rugged terrain to evacuation vehicles.
"With this medical module payload, one person is able to accomplish the extraction instead of the normal two, which results in a force multiplier for the squad," Pedersen said. "The other soldier who would normally be required to assist is now able to aid in protecting the squad or performing other critical duties."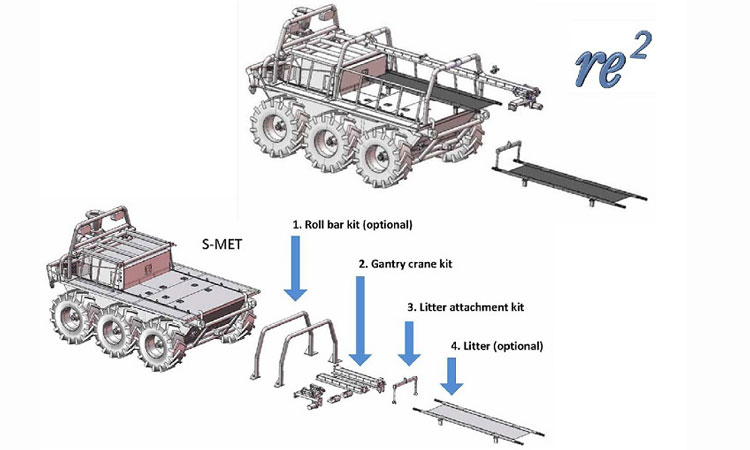 RE2 Robotics has delivered more than 425 mobile robotic arms to the US military since 2010, he added. For the Lifeline project, the company was awarded a phase I and phase II small business innovation research grant (SBIR) from the US Army SBIR office and the US Army Telemedicine and Advanced Technology Research Center.
The robotics company developed the first prototype during phase I of the SBIR program. "The goal for phase II will be to develop a final prototype by refining the design, with major emphasis placed on weight reduction to reduce the burden on the soldier during installation," Pedersen said.
He expects that prototype to be available in early 2018.
Mitigating Damage
Currently, the US Army and US Navy are also using the RE2 arms for bomb disposal.
"Our arms are typically an order of magnitude lighter than traditional robotic arms with the same performance," Pedersen said. "They're designed to be compact, power efficient, and rugged, and run off standard DC batteries."
The arms have good strength-to-weight ratios, "making them very well suited for outdoor mobile applications that need strength in a lightweight, compact form," he added. "These arms are put on robots to do the dull, the dirty, and the dangerous. I know those arms are being used to save someone's life."
The arms are also being put to use eliminating explosives. RE2 is now developing a robotics system to inspect an airfield for unexploded IEDs after an airstrike or attack, eliminate the explosives, and repair damages, he added.
The goal is again to keep soldiers out of harm's way by getting robots to step in and disarm and dispose of IEDs rather than leaving the task to humans.
"If you had an airstrike and you needed to quickly assess where the damage is, mitigate that damage, and then do the minimal amount of repair to get aircraft back into action, that's what this robotic system is for," Pedersen commented.
The system will have a two-pronged approach: an air surveillance vehicle surveying the damage, and a ground, rover-like robot that rolls through the rubble, he added.
The company will soon test the system at the Tyndall Air Force Base in Florida.