Student gives robot a brain so it can identify objects
Boston University student, Emily Fitzgerald, has equipped a robot with a brain for an Undergraduate Research Opportunities Program project.
The robot can now make observations and identify objects.  "That is a ball." "I do believe that is a cone." "Seems like a wonderful book."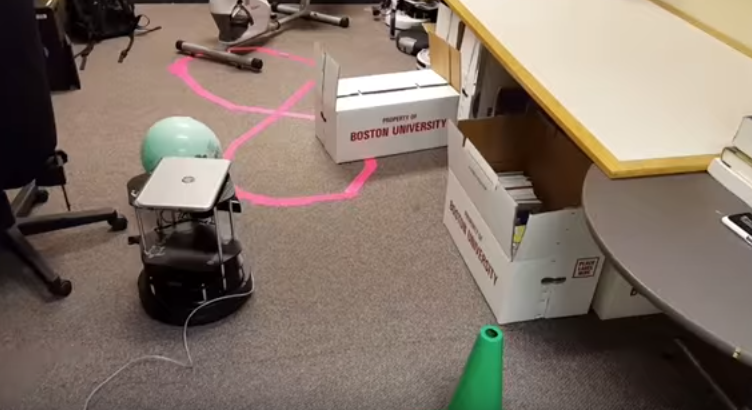 Fitzgerald's robot learned to recognize specific objects, as well as navigate obstacles, using an on-board camera that sends information about what it sees to a laptop that sits on top of it. The computer sends information to a desktop located in the lab and the screen shows whatever images the robot captures.
"It's almost self-thinking," said Fitzgerald.
To develop the robot's "brain", she used a deep neural network, which mimics actual brain neurons and can process large amounts of data to solve problems, like object recognition.
"There's an algorithm that will take a ton of pictures of one object and will put it in and compile it all," said Fitzgerald. "Then we basically assign a number to it."
The robot spots an object, thinks about it, finds a corresponding picture in it's repertoire, picks the associated number, and then uses it to reference the object. For example, "it's a ball."
Fitzgerald's work inspired her to pursue a career in bioimaging, hoping one day to improve the surgical robotics industry.
"I've actually taken this project and I've said, OK, what else can I do with it in the biomedical setting as well?" said Fitzgerald. "It's really shaped how I've thought about my future going forward."
Story via Boston University.