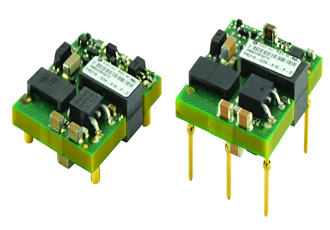 15 W and 25 W Isolated Dc-Dc Converters
CUI announced the addition of two open frame isolated dc-dc converter families to its power portfolio. The PRD15 and PRD25 series output 15 W and 25 W of power respectively in a single square inch of board space. With high typical efficiency up to 91%, these compact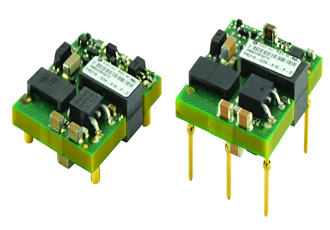 low-profile modules measure just 27.90 x 24.40 x 8.10 mm (1.10 x 0.96 x 0.32 in). The PRD15 series features a 4:1 input voltage range of 9~36 or 18~75 Vdc, while the PRD25 series provides a 2:1 input voltage range from 36~75 Vdc.
Both series are available in through-hole and surface mount versions.  The converters' industry standard pin-outs make them ideal replacements for larger 1" x 2" modules.  For advanced systems, the output voltage of the PRD series delivers fast transient response performance and very low ripple and noise.  Additionally, the series' high efficiency and -40~85 °C operating temperature range makes them suitable for convection-cooled equipment.  Target applications for the PRD15 and PRD25 series include microcontrollers, datacom, telecom, remote sensor systems and portable electronics.
The PRD15 series is available with single regulated outputs of 3.3, 5, 12 and 15 Vdc, while the PRD25 offers outputs of 3.3, 5, and 12 Vdc.  Over voltage, over current, under voltage, over temperature and short circuit protections are also included.  All units hold UL/cUL safety approvals.
The PRD15 and PRD25 are available immediately through distribution with prices starting at $23.51 per unit at 100 pieces