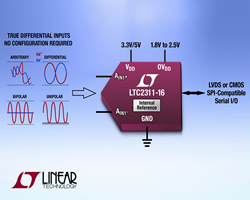 16-Bit, 5Msps SAR ADC Simplifies Analog Front-End Circuitry
Linear introduces the LTC2311-16, a 16-bit, 5Msps successive approximation register (SAR) analog-to-digital converter (ADC) with a wide rail-to-rail input common mode range. The LTC2311-16 features a flexible differential input that accepts analog signals up to the Nyquist frequency. This provides direct conversion of a variety of signal types while maintaining a good signal-to-noise ratio (SNR) of 81.6dB with a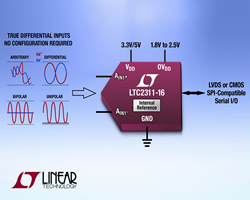 2.2MHz input signal, and achieving a high common mode rejection ratio (CMRR) of 85dB for the same high speed input signal.
Instrumentation and medical applications that require channel-to-channel isolation often use single-channel ADCs to individually isolate front-end circuitry. Each of the ADC channels then requires its own signal conditioning circuitry along with an isolated power source. This circuit is replicated on all channels, so any simplification in the circuit has a profound effect on the complexity of the system. The flexible differential inputs and wide input common mode range of the LTC2311-16 simplify the input signal conditioning design, significantly lowering the required component count, reducing system cost, power consumption and circuit board space.
The LTC2311-16 leads a pin-compatible family of 16-, 14- and 12-bit SAR ADCs with sample rates of 5Msps and 2Msps. These devices integrate a precision internal reference with low drift, guaranteeing 20ppm/°C maximum temperature coefficient to simplify system design. This family can be powered from either a 3.3V or 5V supply, and consumes 30mW with a 3.3V supply and 50mW at 5V. The high speed SPI-compatible CMOS or LVDS serial interface is ideal for highly integrated high speed systems.
The LTC2311-16 is available today in commercial, industrial and automotive (-40°C to 125°C) temperature grades. Other devices in the family will be releasing through 2016. Pricing begins at $9.95 each in 1,000-piece quantities.