5.7kVRMS isolated dual-channel gate driver is fastest in industry
The industry's fastest 5.7kVRMS isolated dual-channel gate driver has been introduced by Texas Instruments, the first of a new gate-driver family in TI's isolation portfolio. The UCC21520's flexible, universal compatibility enables its use as an isolated driver in low-side, high-side, high-side/low-side or half-bridge power management designs.
With its integrated components, advanced protection features and optimized switching performance, the UCC21520 enables designers to build smaller, more robust designs for enterprise, telecomms, automotive and industrial applications.
Developed for high-voltage applications where system protection and reliability are critical, the UCC21520 provides reinforced isolation of 5.7 kVRMS and surge immunity tested up to 12.8kV, along with common-mode transient immunity greater than 100V/ns to help protect end equipment from conditions commonly found in data centers, factories and other high-voltage environments. By delivering the industry's fastest propagation delay of 19ns and the tightest channel-to-channel delay matching of less than 5ns, the device enables high power density and efficiency, resulting in smaller solution size and reliable operation over end equipment lifetimes.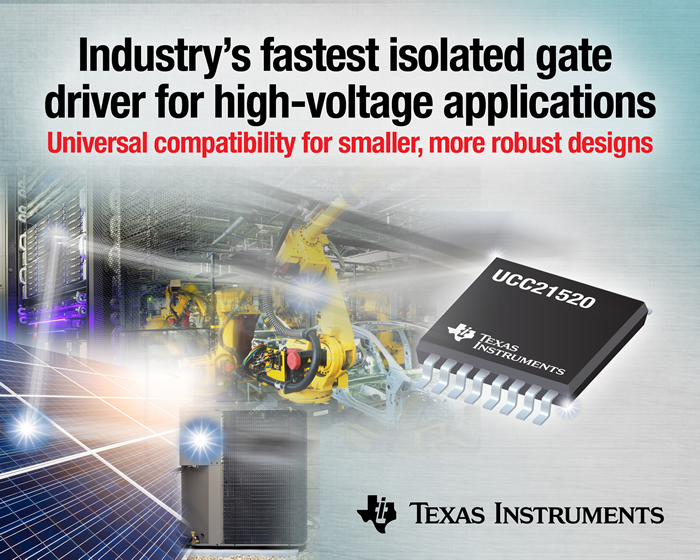 The 4A source and 6A sink current of the UCC21520 reduce switching losses via faster rise times of 6ns and fall times of 7ns for a 1.8nF load in high-frequency switch-mode power applications. With a wide input voltage of 3 to 18V, programmable dead-time control and dual channeling and paralleling of outputs,the UCC21520 gives designers a single, flexible device for multiple applications. The device's standby power, as low as 1mA per channel, helps increase energy efficiency.
TI offers a broad range of support tools for the UCC21520 to speed engineers' time-to-market. Get started now using the UCC21520EVM-286 evaluation module and PSpice/SIMPLIS transient models.
The UCC21520 is now available in the TI store and through the company's authorized distribution network. The isolated gate driver comes in an SOIC16 wide-body package and is priced at $2.40 each in 1,000 unit quantities.