Frozen yogurt pods are now a thing, thanks to a company called Wim yogurt. Bloomberg published a feature this week on their efforts to create a $299 pod gadget that can produce the flavored frozen treat.
The device, called the Wim, looks slightly like a Kitchen Aid. It even weighs 15lbs, so it's more of a statement piece than an appliance you'll stuff in a cabinet. The Wim isn't WiFi or Bluetooth compatible, which is refreshing, even if it means you can't remotely produce frozen yogurt. You have to work for it.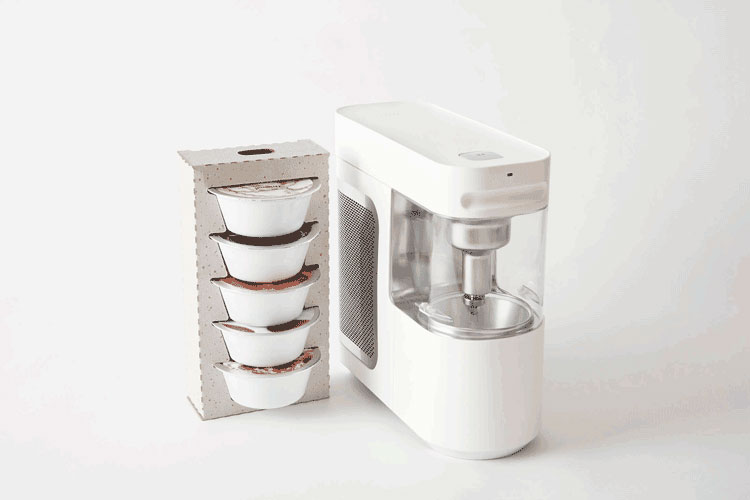 The device only handles proprietary yogurt mixes — aka Wim-Bowls — that have freeze-dried cultured dairy and come in various flavors, like passion fruit and brownie batter. Users have to provide their own milk, although the device works with any milk, including almond and coconut. Each bowl ranges from $3.80 to $3.00, depending on how many you order at once, and serves one person. No subscription service is available.
The freezing process is somewhat secretive. Bloomberg only described it as 'an elaborate cooling system' that gets 'cold at the press of [a] button with zero refrigerant.' Wim said on its website that the 'patent-pending cooling technology' takes a Wim-Bowl from 'room temperature to -10°C in 90 seconds.' The actual process takes 10 minutes, although the froyo is edible after four. All of this is to say, Wim is treating its science as secretive and isn't readily providing details. You can watch this video on the process and let me know if you have an idea of how it works:
There you have it: frozen yogurt pods. The device and bowls are available now through Wim's website and will be coming to Amazon this fall. What's the next food that we'll turn into pod technology in a quest to simplify our lives?