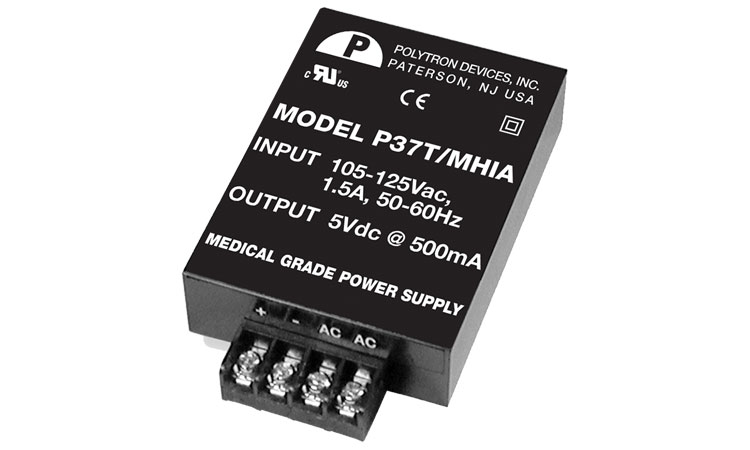 Gresham Power Electronics has announced the introduction of a series of low noise AC/DC Converters for medical applications.
The P3/P5/MHIA Medical AC/DC linear power supply series from Polytron Devices is UL 60601-1 Third Edition recognized. The 2MOPP compliant linear encapsulated AC/DC power module is suitable for applications including surgical equipment, patient monitoring, imaging, laboratory and diagnostics equipment.
These single, dual and triple output power supplies provide 4,000VAC reinforced insulation and are available with either a PC mount or chassis mount footprint with screw terminal connections. The P3/P5/MHIA Medical AC/DC linear series delivers an extremely low output noise of 1.0mV rms while providing a 2μA patient leakage current and a regulation line and load of 0.02 to 0.2%.
In addition, these models feature short circuit protection, CE certification and optional international input voltages including dual and switchable.
Output voltages are available over the range 5 – 250VDC for single outputs, +/-5 to +/124 Vdc for dual outputs and 5 +/-12 and 5 +/-15VDC for triple output units.
Jake Moir, Managing Director of Gresham Power, commented: "Encapsulated power supplies offer a safe and rugged solution to medical systems which may be operated in many different environments."
Gresham Power now offers industrial, medical, CompactPCI, rail and transportation, test and laboratory power solutions from world class manufacturers including Polytron Devices, EOS Power, Vox Power, Magna-Power, Advice Electronics and Digital Power. The range include market leading and cost competitive open frame power supplies, modular configurable and encapsulated power supplies, programmable power supplies and electronic loads and DC?/DC converters.
Gresham's vast experience of designing and manufacturing defense power systems is available to customers to provide modified standard or full custom power supply designs if required. Gresham can also supply a new range of defense power products for land based or vehicle applications to complement its world-leading naval power systems.