A Simple Smartphone Attachment May Be All You Need To Detect Early Skin Cancer
About one person dies of skin cancer every hour.  Since all skin cancer screenings are initially based off of visual examinations, a team of researchers created a smartphone accessory to help detect the disease right away.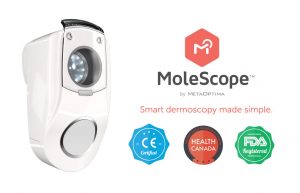 The MoleScope device was introduced by a digital healthcare company spun out of Simon Fraser University and provides a high-resolution, detailed view of the skin through magnification and specialized lighting. The handheld device was unveiled this week at the World Congress of Dermatology in Vancouver where over 11,000 dermatologists have the opportunity to test it out.
The device is designed to slide easily your phone's camera and the power button is conveniently placed below the lens.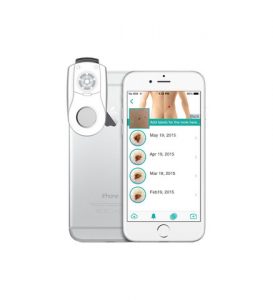 You can use MoleScope to scan your moles and track changes in them and then can share the pictures with your dermatologist via the accompanying app.
The MoleScope is available for the iPhone 5 for $100 and will be available for Android devices soon.
Hopefully the technology can make a difference in someone's life.
To learn more visit MoleScope's website.