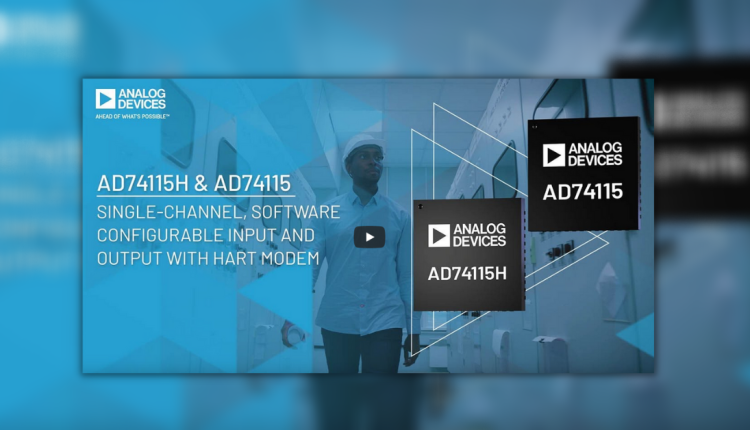 AD74115H/AD74115: Single-Channel, Software Configurable Input and Output Devices
The AD74115H is a single-channel, software-configurable device that is designed for both input and output in industrial control applications. The product provides a wide variety of use cases, all integrated on a single chip, creating a compact, versatile, and high-performing solution for an array of control system applications.
The device offers several configurable modes to a single pin, including voltage input and output, current input and output, digital input, and digital output. This enables a broad array of functionalities, from basic voltage regulation to complex digital communication. It also supports 2-wire, 3-wire, or 4-wire Resistance Temperature Detector (RTD) measurements, as well as thermocouple measurement, expanding its utility in a diverse range of temperature monitoring applications.
One key feature is the integrated HART modem, an essential tool for effective and efficient communication in process control and factory automation environments. Furthermore, the device is designed with a 16-bit, Σ-∆ analog-to-digital converter (ADC) and a 14-bit digital-to-analog converter (DAC) to ensure high-quality data conversion.
The AD74115H supports a wide power supply range and offers programmable power control, which, combined with the ADP1034 companion product, can provide optimized power solutions. Additionally, it is equipped with on-chip diagnostics, including open-circuit and short-circuit detection, enhancing its safety and reliability. An internal temperature sensor with ±5°C accuracy also contributes to the overall stability and performance of the device.
For communication purposes, the device uses a Serial Peripheral Interface (SPI) for all communications, which can handle the HART modem as well as digital inputs and outputs. This functionality can support higher speed data rates, making it a great fit for applications demanding quick, reliable data transmission.
With a temperature range from -40°C to +105°C, the AD74115H is robust enough to perform in a wide range of environmental conditions. Its design in a 48-lead LFCSP form factor ensures compact integration into existing systems.
In conclusion, the AD74115H offers a highly versatile, high-performing solution for a broad range of industrial control applications, making it a significant asset for process control, factory automation, and building control systems.