ADGM1144: 0 Hz/DC to 18 GHz, SP4T, MEMS Switch
VIDEO
The ADGM1144 is a single-pole, four-throw (SP4T) switch ideal for RF and precision equipment switching needs. This wideband switch has a small form factor, wide RF bandwidth, and low insertion loss, and is operational down to 0 Hz/DC. The device uses MEMS switch technology to create a highly linear and low-loss switch that can be controlled through a parallel interface and a serial peripheral interface (SPI). Each of the four switches can be independently controlled.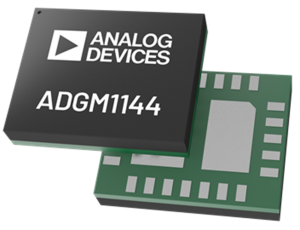 The ADGM1144 is packaged in a 24-lead, 5 mm × 4 mm × 1.0 mm land grid array package (LGA). Additionally, it has integrated 10 MΩ resistors, which help to eliminate floating nodes on the switch, saving board space.
This switch is beneficial in applications such as automatic test equipment (ATE) load and probe boards, DC with high-speed digital testing, relay replacements, RF test instrumentation, ATE with RF, digital, and mixed signals, RF wireless communications, and high-performance RF switching.
For optimum operation, refer to the Critical Operational Requirements section of the data sheet. Note that multifunction pins, such as IN1/SDI, are referred to either by the entire pin name or by a single function of the pin, such as IN1, when only that function is relevant.
Learn more about the ADGM1144.