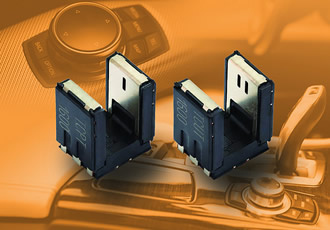 AEC-Q101-Qualified Tall Dome Transmissive Optical Sensors
Vishay Intertechnology introduced two new AEC-Q101-qualified surface-mount transmissive optical sensors for automotive and industrial applications. Offered in a compact 5.5 mm by 4 mm by 5.7 mm package, the Vishay Semiconductors single-channel TCPT1600X01 and dual-channel TCUT1600X01 feature an increased dome height compared with previous-generation devices.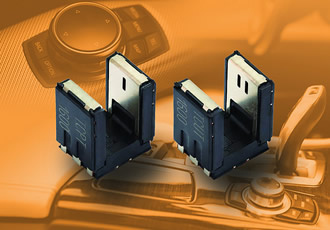 Thanks to their tall dome design, the devices released today offer more vertical headroom for the code wheel in turn-and-push applications. They can be used as position sensors for encoders in high-temperature environments close to motors, in addition to turn knobs, ignition locks, and adaptive headlights. Both sensors can detect motion and speed. With dual channels, the TCUT1600X01 can also be used to detect direction in applications such as electronic power steering (ESP) systems.
The single-channel TCPT1600X01 includes an infrared emitter and phototransistor detector located face-to-face in a surface-mount package, while the dual-channel TCUT1600X01 includes an infrared emitter and two phototransistor detectors. Both sensors deliver a typical output current of 1.6 mA and operate at a wavelength of 950 nm. The devices feature a 3 mm gap width and apertures of 0.3 mm, and they operate over a wide temperature range of -40 °C to +105 °C.
With a Moisture Sensitivity Level rating of 1 (MSL1), the TCPT1600X01 and TCUT1600X01 have an unlimited floor life. Compatible with reflow solder processes according to JEDEC-STD-020D, the devices are halogen-free, RoHS-compliant, and Vishay Green.
Samples and production quantities of the optical sensors are available now, with lead times of eight to 10 weeks for larger orders.