Altera Announces Industry's First 5G Algorithm Innovation Competition
San Jose, Calif., May 28, 2015 — Altera Corporation (NASDAQ: ALTR) kicked-off this month the 2015 5G Algorithm Innovation Competition in China, the industry's first university competition focused on the most advanced technology for communications networks of the future.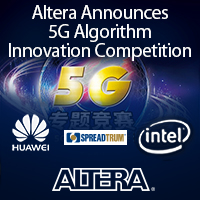 Hosted by Altera, Xidian University, and Terasic, and sponsored by Huawei, Intel, and Spreadtrum, this 5G-focused competition is part of the InnovateAsia 2015 FPGA Design Contest, an established engineering design contest for university students in APAC. The 5G competition aims to enable innovation, foster talent and motivate the development of the 5G industry. The contest is open to all graduate and senior undergraduate engineering students in China. For enrollment details, please visit: http://www.innovateasia.com/5g/en.
"The Altera University Program has always been well known both in China and globally," said Professor Jiandong Li, vice principal, Xidian University. "This 5G competition bridges interaction between academia and the industry and will drive the development of a more mature 5G ecosystem. We believe there are many outstanding talents interested in 5G technologies among the seven million Chinese university students, and they will be the ones helping make China a leader in the era of 5G."
Participating student teams are required to submit simulations and logical implementation schemes of 5G new air interface algorithm based on Altera FPGAs and the three core 5G algorithms: SCMA (Sparse Code Multiple Access), F-OFDM (Filtered-OFDM), and Polar Code.
"We are pleased to support the industry's first 5G Algorithm Competition program," said Dr. Wen Tong, the Huawei Fellow, CTO, Huawei Wireless. "As a leading force of 5G innovation, Huawei is investing significant effort in creating ground-breaking 5G technologies. The key enabling technologies of this competition will lay a foundation in the emerging 5G air-interface standard. To realize this goal, we need the contribution from the entire ecosystem, and Huawei believes this event can help facilitate the collaborations among the key players in the industry as well as the academic research community."
"Intel supports programs which foster innovation in the telecommunications industry, such as the 5G Algorithm Competition," said Sandra Rivera, vice president, Data Center Group and general manager, Network Platforms Group, Intel Corporation. "We believe the evolution to 5G will require strong industry collaboration to create a scalable, flexible network architecture that can address the large influx of devices, and high capacity and low latency demands. Intel is committed to delivering technology advancements and working with partners like Altera and Huawei to deliver on 5G market requirements."
Sponsored by the Altera University Program and Terasic, InnovateAsia is a multi-discipline engineering design contest hosted across the world and open to all graduate and undergraduate engineering students. Successfully held for 11 consecutive years, the InnovateAsia Program is not only a FPGA design competition in APAC but also is an arena to celebrate the innovations of top students. More information is available at http://www.innovateasia.com/home/index.html.
It is also sponsored by Huawei's HIRP (Huawei Innovation Research Program), which targets helping R&D talents and teams innovate new technologies and services using new methodologies. More information is available at http://www.huawei.com/en/hirp/.
"We see a huge potential emerging with 5G cellular infrastructure; its social impact will be even more profound than 3G and 4G, as it will drive innovation across all industries, from wireless to automotive and industrial," said Francis Chow, vice president and general manager of the Communication Business Unit at Altera. "There are some very exciting technology developments, for example SCMA , energy-efficient communications, cognitive radio networks, and visible light communications. Altera is fully committed to this research initiative and, in the future, we plan to extend this 5G university competition worldwide, leveraging the power of the global research community to drive innovation."
About the Altera University Program
The Altera University Program is aimed at providing complete support for introducing students to digital technology. The support includes hardware, software and teaching materials. It sponsors conferences, workshops and design contests for academics and students around the world. In addition, the University Program sponsors student design competitions. The highly popular design contests have resulted in many innovative designs. More information on the Altera University Program is available at https://www.altera.com/support/training/university/overview.html.
About Altera
Altera® programmable solutions enable designers of electronic systems to rapidly and cost effectively innovate, differentiate and win in their markets. Altera offers FPGA, SoC, CPLD, and complementary technologies, such as power solutions to provide high-value solutions to customers worldwide. Visit Altera at www.altera.com.