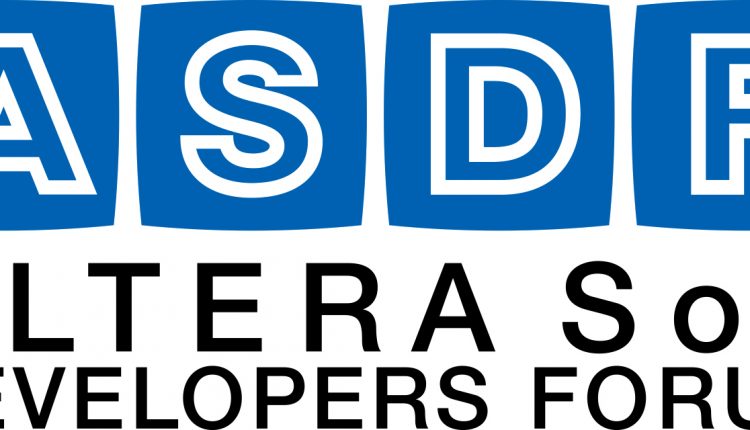 Altera Launches Worldwide SoC FPGA Developers Forums
Altera announced the launch of the Altera SoC Developers Forum (ASDF).
These inaugural events in Silicon Valley; Frankfurt, Germany; and Shenzhen, China bring together partners, developers and engineers.
Which are focused on using the fine-grained heterogeneous computing technology in ARM-based SoC FPGAs to address next-gen embedded computing applications.
The ASDF provides an environment where system architects, hardware engineers, software developers and firmware engineers can collaborate.
They can also discuss ideas and challenges, learn the latest technology and SoC FPGA product news from Altera.
ASDF includes two technical tracks focused on hardware design and software development.
Attendees will receive in-depth technical information through breakout sessions, hands-on workshops and keynotes.
The ASDF also includes an exhibit hall with the latest technical demonstrations from Arrow Electronics, Cytech, EBV, ARM, Lauterbach, MathWorks, Terasic, Wind River.
ASDF is the industry's first developers forum dedicated to investigating the technology and application of SoC FPGA usage in the Internet of Things (IoT), data center, cloud computing, networking, communications, industrial, automotive and other applications.
Fine-grained heterogeneous computing using FPGA fabric allows developers to tailor acceleration to address specific tasks, thus improving system performance and reducing power.
Developers and innovators will join Altera and ARM ecosystem experts for this one-day event to exchange ideas on using SoC FPGAs to create customized, differentiated accelerators.
The 2015 ASDF is being held in three locations worldwide.
The ASDF Silicon Valley takes place September 30, 2015 in Santa Clara, Calif.
ASDF Europe takes place October 14, 2015 in Frankfurt, Germany.
Asia ASDF takes place November 3, 2015 in Shenzhen, China.
"We launched the ASDF as a result of the critical mass of SoC FPGA developers, users and partners that has formed since the launch of our ARM-based SoCs," said Chris Balough, Senior Director of Marketing, SoC products, Altera.
"ASDF is a single-purpose event targeted at sparking collaboration and innovation among Altera's SoC FPGA community."
ASDF sponsors include Arrow Electronics, Cytech, EBV, ARM, Lauterbach, MathWorks, Terasic, Wind River Systems, Aspen Core, Mentor Graphics, Micron, SLS and ReFLEX.
The regional ASDF events are also supported by several regional sponsors.
"The Altera SoC Developer's Forum provides a great opportunity for embedded system developers to engage with experts and get in-depth exposure to Altera's ARM-based SoC FPGAs," said Greg Provenzano, Vice President of Global Semiconductor at Arrow Electronics.
"Attending the ASDF will help deepen users' engagement with industry experts and make it easier to design around Altera's world class ARM-based SoC FPGA architecture."