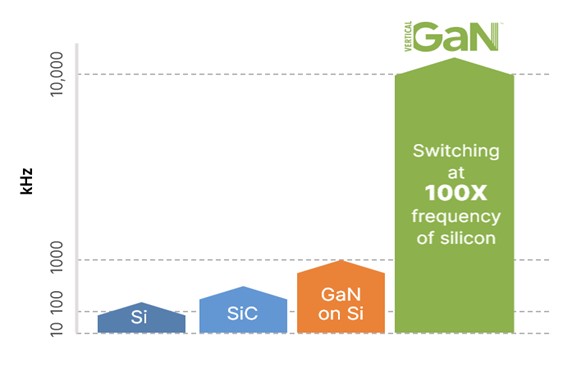 APEC 2022: GaN-on-GaN Power
At APEC 2022 in Houston this week, NexGen demonstrated what it claims is the world's first GaN-on-GaN technology for the first time. Its commercial power systems operate at 1-3MHz switching frequency, are 60% smaller than current best-in-class power supplies, and rely on Vertical GaN™ technology.
Features include high voltage (700V, 1200V) and robust (single, repeated avalanche and >10µs short-circuit protection rated) GaN technology. According to the company, the dramatic size reduction provides the smallest and most efficient power supplies on the market.
Translated–the smaller the device, the lower the capacitance and the greater the switching frequency. High switching frequency provides more precise waveform generation, yielding superior performance over silicon-based power conversion systems. In addition, the fastest switching frequencies reduce the size of capacitors, inductors, and transformers, enabling the smallest power conversion systems.
For further details, please visit https://nexgenpowersystems.com/