Are You in One of the 10 Worst States for Identity Theft?
Network Assured just shared the results of a recent study that looked at which U.S. states have the highest number of identity theft per capita in the last 5 years. The study considered ID theft reports, losses incurred, and data breaches, scoring each state government's preventative measures against ID theft on a scale of 1 to 10.
Network Assured also used data from the FTC on annual identity theft reports and financial losses, comparing them to state-level data breach statistics. It also compared losses from identity theft to each state's median income.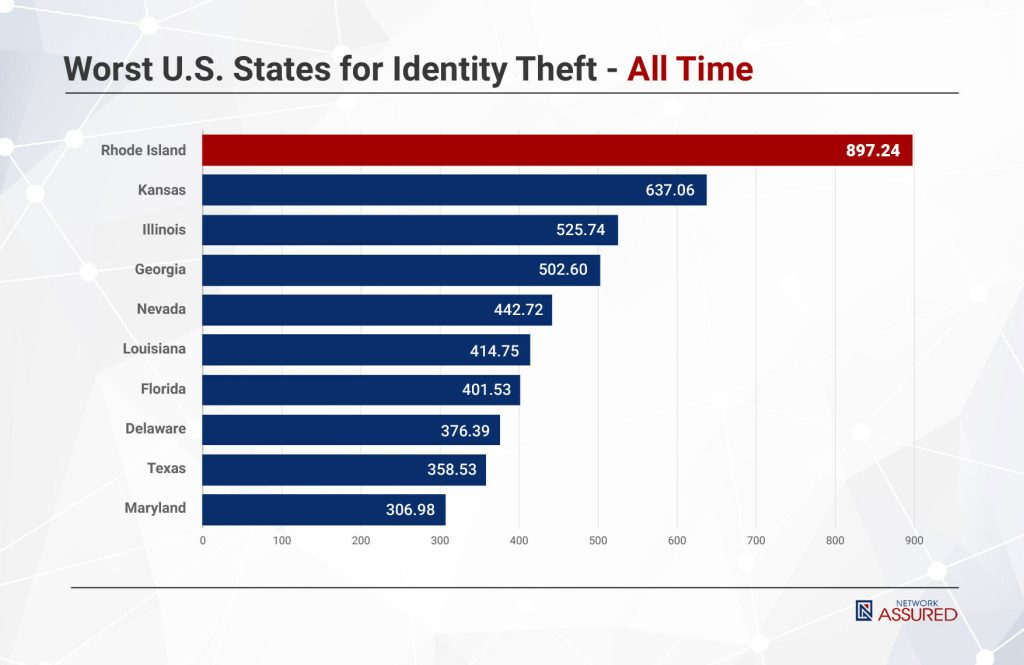 Per capita identity theft is high in states with high per capita data breaches. There's often a lag of years between when personal data is stolen in a data breach and when it is used to impersonate someone's identity successfully.
Rhode Island was the worst state in the U.S. for identity theft, seeing an average of 897 ID theft reports per 100,000 residents for the last 5 years; Florida lost the highest share of median income to identity theft, at 2.74%. Government preventative measures are effective in reducing the damage of ID theft. Although it has high data breaches, Maryland has seen fewer than the expected number of ID theft cases, thanks to solid data breach reporting and data privacy laws in the state. Surprisingly, 5 of the 10 worst states for identity theft have no legislative measures in place to protect their citizens against data breaches.
The study underscores the need for governments and corporations to cooperate in the fight against cybercrime and identity theft. With greater transparency in data breach reporting and stronger laws to criminalize identity theft, the study hints that reducing the losses from identity theft is possible. To see the complete findings, including the full list of the worst states for Identity theft, along with full-color charts, please visit the study here.