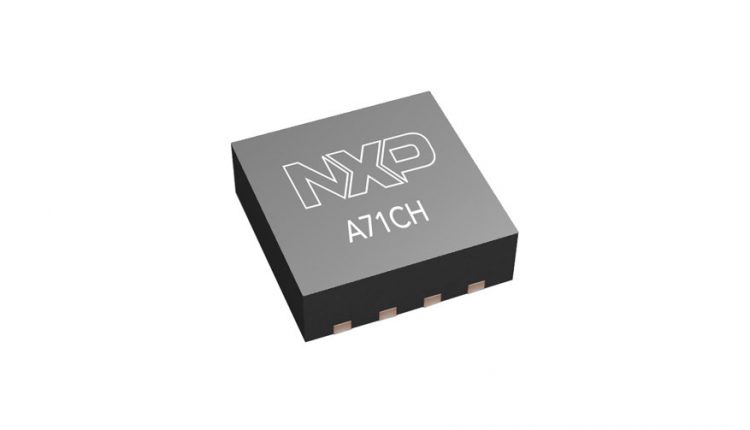 Arrow Electronics has announced a secure provisioning service that will enable the rapid deployment of IoT edge nodes and gateways featuring the NXP A71CH Secure Element trust anchor.
The ability to authenticate IoT devices and quickly establish trusted connections to the cloud is becoming increasingly important, particularly with the GDPR legislation and the responsibility it places on organisations to protect data and security. Arrow has expanded the programming facilities at its distribution center in Venlo, Netherlands, to offer the new service, which will be available to its customers initially across EMEA (Europe, Middle East and Africa) and with the prospect of a full global rollout.
The NXP A71CH is a ready-to-use security solution that has been developed to secure IoT peer-to-peer or cloud connections in smart home/city and industrial applications including sensor networks and IP cameras. The solution is based on a root of trust at the silicon level with security functions including encrypted key storage, key generation and derivation to protect private information and credentials for mutual authentication. The A71CH can be provisioned by Arrow with the credentials necessary for autonomous cloud onboarding and peer-to-peer authentication.
Arrow has installed a Data I/O Sentrix security provisioning and data programming system at the Venlo warehouse to deliver its new service. Data I/O has collaborated closely with NXP in support of A71CH Secure Element to offer secure provisioning and personalization.
"The A71CH supports our 'Plug & Trust' approach by enabling customers to easily integrate a root of trust into their IoT devices used for mutual device-authentication and cloud onboarding," said Philippe Dubois, Senior Director and General Manager IoT Security at NXP Semiconductors. "Arrow's secure provisioning service, used to insert the necessary keys and credentials into NXP hardware, perfectly completes our offering by providing the service for any customer volume."
"We are very pleased to support Arrow Electronics and NXP on the award winning SentriX platform to enable trusted and secure provisioning of the NXP A71CH at Arrow Venlo," said Anthony Ambrose, President and CEO of Data I/O Corporation. "NXP and Arrow bring strong innovation, technical support, and unique demand creation to the market. This collaboration accelerates our joint vision to make hardware based security easy to deploy for customers of all sizes."
Andrew Bickley, Director IoT, Arrow EMEA Components commented: "Companies are already highly aware of the necessity of securing their IoT networks at all levels but the onset of GDPR has brought this into even sharper focus, given the penalties involved in non-compliance. NXP has created a 'plug and trust' device that allows easy integration of security and cloud onboarding with different microcontrollers. The Arrow secure provisioning offering will bring this functionality to the mass market by dramatically increasing the speed and scale of device provisioning."