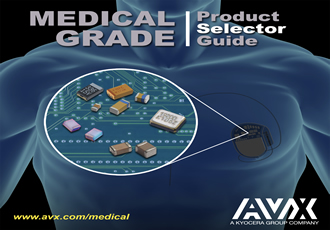 AVX Releases New Medical Selector Guide
AVX has released a new, interactive Medical Selector Guide that features industry-specific summary information about its portfolio of electronic components for Class I, II, and III medical devices, including: tantalum and ceramic capacitors, thin film products, connectors,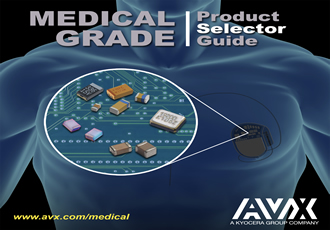 EMI filters and feedthroughs, SAW filters, and timing devices. Released in support of the new Medical Industry Applications page on the recently revamped AVX website, embedded links in the guide's table of contents take users directly to product pages where they can access datasheets, catalogs, part number information, relevant technical papers, modeling software, and other technical information, as well as request samples.
AVX offers a wide range of electronic components for medical applications, spanning solutions for Class III devices, which satisfy the strictest industry requirements for implantable and life-support applications, to solutions for Class I and II devices, which allow users to satisfy FDA requirements for less strictly regulated medical devices with more cost-effective component solutions. Focusing on products for Class II and Class III medical devices, the Medical Selector Guide consists of parts designed for a variety of applications, including: pacemakers, implantable cardioverter-defibrillators, neuromodulation devices, cochlear implants, insulin pumps, drug pumps, hearing aids, heart monitors, vascular assist devices, MRI and X-ray machines, external defibrillators, and other monitoring and diagnostic devices.
"AVX has more than 20 years' experience designing and supplying advanced passive components and interconnect solutions to the medical device industry, which provides us with an in-depth understanding of medical device design requirements, and our quality systems lead the industry and support customer-specific change control, documentation, specification, and testing procedures," said Lizzie Geismar, product marketing, AVX. "Our new Medical Selector Guide allows medical design engineers to quickly review our portfolio of products, learn more about the industry-specific benefits they provide, and easily access additional technical information."