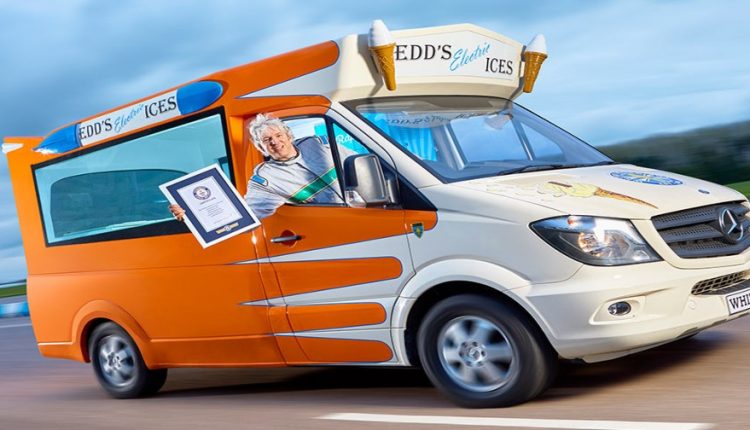 British Inventor Aims to Save Ice Cream Vans by Electrifying Them
Edd China, the English television presenter, mechanic, motor specialist and inventor whose TV career began as special effects technician for the series Father Ted, has become a record-breaking legend. This year he's broken yet another Guinness World Records title, this one for the fastest electric ice cream van by reaching a zooming speed of 118.964 km/h (73.921 mph).
Edd began to work his magic to electrify the van back in 2018, which originally ran on a Mercedes Sprinter diesel engine. 
After two years of modifications and despite the challenges of the coronavirus, he broke the record in March 2020. 
The record was measured at Elvington Airfield in Yorkshire, UK, and the speed he achieved would have given Edd a speeding ticket if he were on a motorway!
This project was never just about breaking records for Edd; it also had an environmental importance too. 
After he discovered ice cream vans were being banned in some London boroughs because of their toxic emissions, Edd decided to create a special engine conversion kit for ice cream vans so that they can run on electricity rather than diesel. 
He hopes to roll this out globally, future proofing ice cream vans as a key part of Summertime.
This becomes his seventh Guinness World Record title centred around speedy motorized vehicles, including the fastest office, which he set back in 2006. It travelled at 140 km/h (87 mph).
Edd now has his sights set on breaking the record for the fastest motorized shopping trolley currently held at 70.4 mph. Edd aims to make it street-legal, using its new electric drivetrain to keep his record breaking streak alive.
Edd's latest Guinness World Records title will feature alongside thousands of others in the 2021 edition of the book, available from September onwards.
Source: Guinness World Records