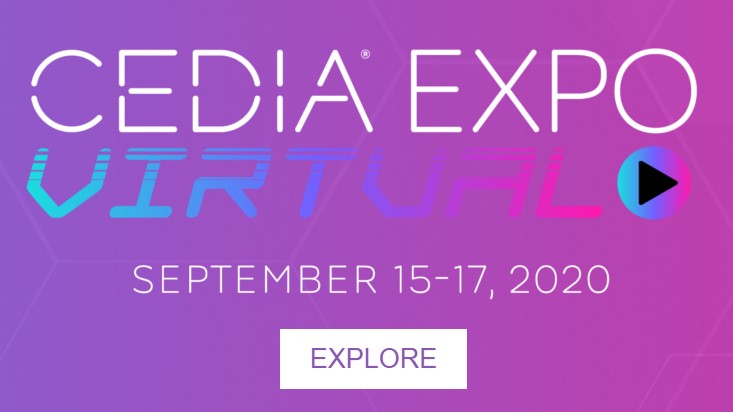 CEDIA Expo Virtual Explores Smart Home Tech and the Rise of Enterprise Level Home Networks
As with many events, CEDIA Expo, the official trade show of the Custom Electronics Design and Installation Association, transitioned to a virtual event for 2020.
With the tagline "Get Smart at Home" CEDIA Expo Virtual took place in an interactive format from September 15 – 17. The event is available for streaming on demand through December 20, enabling even more custom electronics professionals, manufacturers, and enthusiasts to learn about the latest trends in smart home electronics, residential technology, and more.
The event included:
     

12 recorded tech talks

     

4 keynotes

     

More than 75 recorded educational sessions

     

150 guest speakers

     

Education sessions hosted by top manufacturers

     

Product spotlights

     

Discussion forums

     

Virtual Expo Hall meetings

     

The CE Pro All-Star band concert
In addition, members of the CE community hosted virtual happy hours, bringing some of the real-world, after hours trade show experience home for members.
One thing that did not change at this year's Expo was the emphasis on top and emerging smart home trends we can expect to see for the coming holiday season and beyond to 2021.
These trends include the merging of design and functionality when it comes to smart home products, integrated and immersive technology, and robust wired and wireless networks to handle the modern home's ever-growing bandwidth requirements.
Design and Functionality Merge
As people spend more time at home due to the pandemic, the synergy between smart home design and functionality grows in prevalence and importance.
One panel, "Hidden in Plain Sight: How to Conceal Tech or Make a Statement with It" explored the concept of seamlessly merging technology and design. Hosted by Katye McGregor Bennett of KMB Communications and Veronika Miller of Modenus Media, the panel featured Noah Kaplan, President, Leon Speakers; Brad Hintze, Senior Marketing Leader, Control4; Jamie Briesemeister, CEO and Co-Founder, Integration Controls; Rocky Settecasi, Systems Designer, TRIPhase Technologies; and Shanna Haecker, Owner and Designer, TRIPhase Technologies.
"Technology continues to play a vital role in homeowners' lives, whether they're using tech for enjoyment, work, or to help manage the household," Kaplan said in a press release. "Unfortunately, all too often the technology overpowers the room aesthetic, making the space feel more like a science lab than a comfortable, beautiful living area." 
By working with designers and choosing products that fit a room, custom integrators can help create spaces that allow a home's residents to connect or unplug and feel comfortable doing so.  The session was one of many that explored the significant role other trades, including the architecture and design industry, play in custom electronics integration today. 
"I was impressed to see sessions designed to educate and inspire not only the integration community but also the 'adjacent trades,' as I call them, who the AV and tech integration communities are so eager to align with," said McGregor Bennett.
Integrated Technology Makes Life Easier for Homeowners
In addition to ensuring that technology either blends with a home's design or helps emphasize a tech-forward aesthetic, today's advanced smart home technology should be virtually invisible in its functionality. That means:
     

Voice control

     

Integrated controls

     

Intuitive interfaces
Companies like Crestron Electronics showcased smart home ecosystems that integrate with third-party products to deliver a seamless and intuitive interface across the home's lighting, shading, temperature control, and entertainment systems.
Robust Networks Power Today's Smart Home Solutions
Behind all our smart home devices – as well as our children's virtual learning, our own endless video conferencing, and hours of streaming our favorite shows – sits a robust network.
"Although home networks lack the sensory appeal of other technologies like AV equipment and lighting systems, they are an essential part of every home," said Hagai Feiner, founder and CEO of Access Networks. "Getting this point across to homeowners used to be difficult, but in the wake of COVID 19, people are now fully embracing home networks as families spend the majority of their time working, learning, and entertaining at home, and require stronger, faster, more reliable connectivity."  
CEDIA Expo emphasized the importance of wired networks for control systems and devices like lighting, speaker systems, and smart TVs, along with a powerful Wi-Fi network to accommodate increasing bandwidth demands. Access Networks, along with control system manufacturer Savant, co-sponsored a keynote panel discussion hosted by industry expert Jason Knott, which discussed changes to the CE industry as a result of the pandemic, including the growing reliance on enterprise-grade home networks to power a remote world.