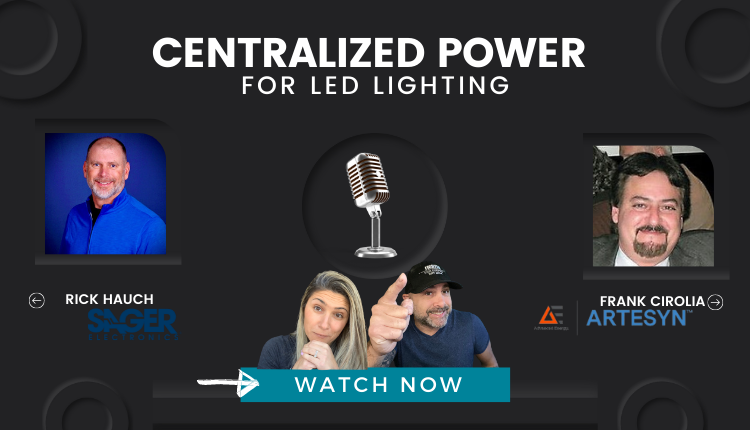 Let's discuss centralized power for LED lighting with experts from Sager Electronics and Advanced Energy. In this video, we'll learn more about the importance of horticultural lighting systems, current power methods, and alternatives that present indoor plant growers and LED light manufacturers with many benefits. We're joined by Sager power sales engineer Rick Hauch, and Frank Cirolia, the manager of systems and application engineering at Artesyn, to discuss.
When discussing the importance of horticultural lighting systems, it's helpful to look at the data center industry. Back in 2006, that industry saw a significant increase, using about 2% of all U.S. energy. Recognizing what needed to be done, the industry took to better hardware and software. So instead of rising to 10 to 12% of the U.S. energy use, it's floating around 4% and steady.
If we turn to horticulture, we see a similar trend and need. Back in 2012, the total energy use for horticultural lighting was about 1% of all U.S. By 2016, when Colorado legalized cannabis use, the one state of Colorado was using 2% of all U.S. energy. With more and more states now legalizing cannabis, and more on the horizon, we're expected to see a balloon in energy use as a result. One of the most significant changes was the shift to LED lights, a step in the right direction, but not quite the total solution when considering the air conditioning needs (these lights produce a lot of heat).
Many people are looking to indoor growing because it's a means of controlling the environment, unlike the outdoors, but getting the heat out of that environment is tricky.
One way to lower energy usage and provide more growing intelligence is by opting for Artesyn's iHPs when working with lighting instead of traditional drivers. The driver gets power from an A.C. source, so there is a cable for the input power, then a cable goes from the driver output to the LED, this would be a D.C. source of 24Vdc or 48Vdc, then if you need dimming, there is another cable that goes to the driver. So, the driver has three cables going to it.
Although it's the current method, grower complaints are abundant.
The biggest challenge experienced is that there is too much heat in the grow area. The other challenge is that of installation and wiring needs. For example, a one-acre grow area might require three cables for every light, 1,743 lights, plus 872 CBs and 44 break panels.
The logic behind the birth of the iHP was this: remove all the drivers from the grow area and use the iHP as a central power source and locate it outside the grow area. Employing Artesyn's iHP means easier installation, too.
The LED lights will be driven by the iHP using a current source. The iHP can also control dimming features by controlling the current to the LEDs and you'd only need one cable instead of three.
If we consider the example of one acre of land again, users will save more than 15% of energy costs when considering the 15-ton A.C. Even without the A.C., you would save about 10% energy costs yearly. And while the ROI for the one-acre would be about 2.3 years, there is no ROI when using drivers.
Another consideration is better yields. Plants tend to move away from the heat, so where drives are located, the plants are smaller.
Retrofitting
Many indoor farmers start out growing in old buildings with a limited amount of current going in. Instead, it is fixed and very costly to increase this input current. So growers try to stay within the budget of current available to them.
Using the iHP with an iTS (transfer switch) can save a lot of power. For example, when in the flowering stage of the grow process, the lights need to be on for 12 hours and off for 12 hours. Instead of having a rack for each room, Artesyn presents the option to have one rack that goes to the iTS, one input from the iHP, and two outputs that can feed to different rooms. So one rack is doing the function that two usually do, which saves money on hardware and reduces the overall current used. (The iTS will be available January 2022.)
Grower Benefits:
Save about 17% in electricity bills annually (with a fast ROI for the iHP equipment).
Remove heat from your grow area (small A.C. will be needed).
Better yields.
Easy maintenance (if a module fails you can just remove it and plug another one in).
Longer lifespan.
Easier installation, less wiring, lower install costs.
Lower shipping costs.
Reliable: 5-year warranty on the iHP.
The iHP will pay for itself in utilities savings.
Artesyn can come on-site to help set up and provide training on the dashboard and scheduling controller, so you are prepared to use the equipment.
One day turnaround on the iHP equipment. You're up and running as fast as possible.
The Sager-Artesyn Partnership Helps Growers
Sager Electronics is the largest Artesyn power products' stocking distributor in North America. The company also has a power service center in Carrollton, TX, an authorized value ad assembly and testing facility.
Learn More:
https://www.artesyn.com/product/configurables/intelligent-high-power-series
www.Sager.com  >> Search iHP
About Sager and Artesyn
Sager Overview: Sager Electronics, a wholly owned subsidiary of TTI Inc., a Berkshire Hathaway Inc. company, is a North American distributor of Interconnect, Power and Electromechanical components from over 90 leading manufacturers worldwide.  Sager Power Systems is a specialized group within Sager Electronics focused solely on power, thermal and battery solutions. This group is a specialized team of highly trained, technically experienced professionals, working directly with customers, offering a line card of world-class power, thermal and battery manufacturers, and a full complement of value-add capabilities. Sager Power Systems offers over 30,000 world-class AC/DC and DC/DC standard solutions from leading power supply manufacturers and can evaluate and specify standard and value-added solutions. The group supports power supply customers with robust design capabilities including mechanical enclosure, cable assembly, quick turn prototyping, and product safety testing and certifications.
Artesyn Overview: Artesyn Embedded Power, an Advanced Energy company, is a global leader in the design and manufacture of highly reliable power conversion solutions for a wide range of industries including communications, computing, server storage, healthcare and industrial. For more than 40 years, customers have trusted Artesyn to help them accelerate time-to-market and reduce risk with cost-effective power conversion solutions.