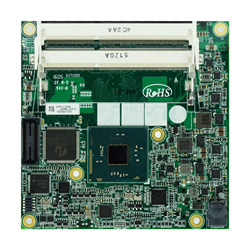 Compact-size COM Express Module
WIN Enterprises announces the MB-73450, a new COM Express module in compact size with Type 6 pin-outs. The module supports a variety of attractive dual- and quad-core SoC processors, including models from the low-power Intel Celeron and Pentium N3000 product families (4W~10W), formerly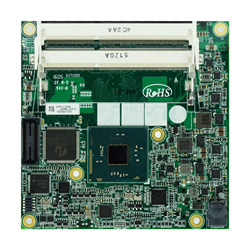 codenamed Braswell. In addition the unit supports the cost-efficient Intel Atom quad-core x5-E8000 that features excellent turbo-boost characteristics to support compute-intense activities such as security key handling, etc. Turbo-boost frequencies range from 2.0GHz up to 2.56GHz across the various processor options for MB-73450.
FEATURES
Supports Intel Celeron N3XXX processor family
Up to 8GB non-ECC Dual channel DDR3L
Two DDI channels, one LVDS, up to 3 independent displays
GbE, 2x SATA 6 Gb/s, 4x USB 3.0 and 8x USB 2.0
5 PCIe x1 (Gen2)
Supports TPM 1.2/2.0
Wide range voltage input 8.5~20V
Wide range operating temperature: -40°C to +85°C (optional)
As a COMe module, MB-73450 is intended as a swappable processing solution for OEMs wishing to upgrade their products while maintaining the use of an existing carrier board. The module offers the benefit of increased performance at low investment while extending the OEM's product life up to an additional 7 years,
The module offers a maximum of up to 8GB DDR3L memory. Its expansion interface supports five PCIe X1 slots. In addition, it supports three independent displays and the Intel® HD Audio Interface. The MB-73450 comes as a response to the market's need for a low power IoT solution that leverages the compact size of Intel's most recent advances in Celeron, Pentium, and Atom design.
MB-73450 processor options featured robust turbo burst frequencies for IoT environments where processors must serve functions incremental to their primary application function, such as encryption/de-encryption, managing network traffic, and virus protection. MB-73450 supports Trusted Platform Module (TPM) for more secure communications.
WIN Enterprises can modify this unit to meet more specific requirements when ordered in OEM quantities.