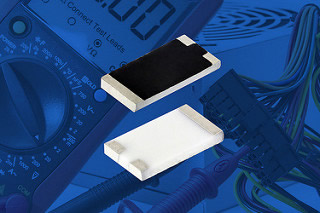 New Vishay CDMV Series Thick Film Chip Resistor Dividers
Vishay introduced a new series of thick film chip resistor dividers designed to reduce space requirements, simplify manufacturing designs, and increase design flexibility in high-voltage industrial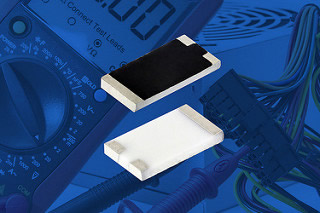 and alternative energy equipment. Available in a wide range of termination styles, materials, and configurations, Vishay Techno CDMV series devices offer working voltages up to 1.4 kV and provide a single-component replacement for multiple discrete resistors used in voltage division applications.
Consisting of two resistors integrated into a single 2512 case size, the space-saving devices released today offer a wide resistance range from 10 kΩ to 75 MΩ, with maximum resistance ratios to 700:1 and tolerances down to ± 0.5 %. The chip dividers feature temperature coefficients of ± 100 ppm/°C and typical TCR tracking of ± 50 ppm/°C.
For design flexibility, CDMV series devices are available with solderable, epoxy-bondable, and wire-bondable terminations in three-sided wraparound or top-only flip chip configurations. Solder-coated nickel barrier terminations are standard for the RoHS-compliant, halogen-free chip dividers, with gold, palladium silver, platinum gold, platinum silver, and platinum palladium gold terminations available.
Samples and production quantities of the CDMV series devices are available now, with lead times of nominally eight to 10 weeks.