Paper airplanes typically don't fly very far — unless they're transformed into drones, of course.
A company called PowerUp Toys has created the first-ever paper airplane drone with a live streaming camera.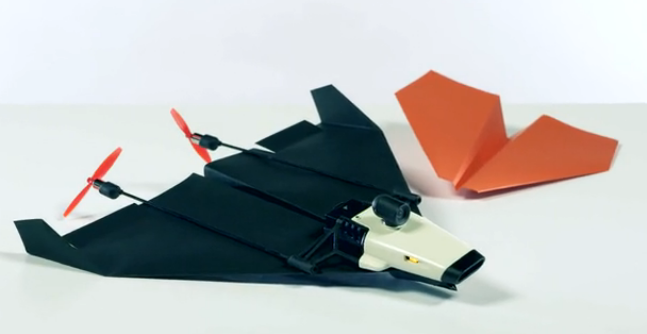 The PowerUp FPV lets you experience flight as if you were sitting in the cockpit of your very own paper airplane. The drone works with a smartphone and a head-mounted display so you can see what the plane sees and even control the paper drone's view by moving your head.
The company teamed up with Parrot to create the live streaming technology that lets you feel like you're flying up in the air.
"When we met the Parrot team this year at CES, we had a burning desire to join forces. As the brilliant creators of the AR Drone and paving the way in Wi-Fi streaming technologies, there is no partner we'd rather have than Parrot to help develop a high-quality streaming experience for our product. We're thrilled to say that Parrot accepted the challenge, and with their Wi-Fi and live streaming know-how, we created a state-of-the-art board built for your paper airplane."
The drone can fly up to 20 mph and comes with a hot swap battery for up to 10 minutes of continuous flight. It comes equipped with Wi-Fi live streaming that works with a range of up to 300 feet and allows users to capture live streaming video and still images onto a micro SD card.
There are three ways to control the drone: with a head-mounted display, using your smartphone as a touch pad, or by activating autopilot mode.
PowerUp FPV is compatible with both Android and iOS devices.
PowerUp Toys has launched a Kickstarter campaign to raise funds for the paper drone. The PowerUp FPV is currently available for a super early-bird price of $159 and is expected to ship June 2016. Each drone comes with a head-mounted display and battery pack.