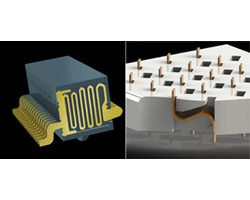 Compliant Connectors Designed to the Project Specifications
Everett Charles Technologies' (ECT) Compliant Connectors Team successfully developed a custom solution for a demanding medical application in the area of video imaging and endoscopic data. Combining decades of experience in probes with ECT's expert capability of RF simulation, the solution fully met the mechanical, electrical and environmental specifications while keeping to the customer's project schedule.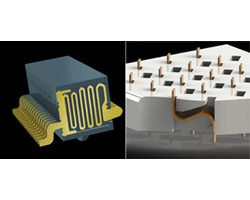 This customer faced a major challenge related to a connector requirement. The connector had to fit into a tightly confined area. Therefore the connector design needed to be very compact. The application was in a very dirty environment. The connector needed to be field cleanable and withstand the environmental conditions. As an added complication, the connector had to maintain a 100 Ohm impedance for proper signal transmission. Finally a life of ten thousands of insertions was required.
ECT provided a custom solution designed to the parameters including high speed signal transmission and mechanical life meeting all electrical and mechanical challenges while keeping to the project's development time window. ECT's capabilities of RF signal integrity simulation and validation were key for project success. Accurately predicting electrical performance of the spring probe connector as well as complete circuit performance prior to fabrication was essential to avoid multiple iterations and delays. ECT accurately modeled electrical performance and adjusted design parameters on-the-fly to ensure the prototypes met performance specifications.
Tony DeRosa, Product Manager, commented: "In addition to our off-the-shelf 'catalog connectors', which can be configured to customer requirements, we offer solutions fully designed to customer specifications, where standard products can't meet the entire set of requirements. Our in-house expertise in RF simulation is a unique and valuable asset for this. With our RF simulation and validation capabilities we optimize the design prior to production. This way we ensure both: best performance and fast project completion."