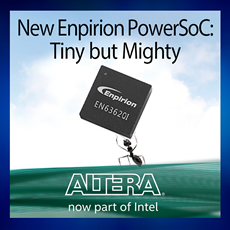 PowerSoC DC-DC Step-down Converter Delivers Power Density, Performance and Reliability
Altera has expanded its Enpirion power products portfolio with a 6A PowerSoC DC-DC step-down converter that is a full-featured, highly integrated, and fully tested PowerSoC with integrated inductor. The new PowerSoC (EN6362QI) is the first in a new generation of low-VIN (input voltage) power products that offer industry-leading power density while improving performance in the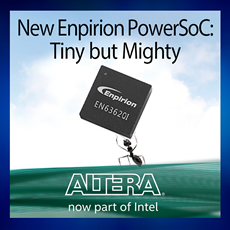 areas of conversion efficiency, output voltage accuracy, load transient response, and output voltage ripple. These features help system designers meet stringent system power requirements and significantly reduce costs while accelerating time-to-market. The PowerSoC is ideal for powering the Altera Cyclone and MAX families of FPGAs and can optimize power usage in a variety of systems requiring a tiny, accurate, high-efficiency power source.
The EN6362QI PowerSoC is 45 percent smaller than other power modules and 75 percent smaller than most competing discrete (non-integrated) device implementations. It offers the highest efficiency of any comparable module, along with superior thermal performance, delivering continuous 6A at 85oC ambient temperature with no de-rating.
The EN6362QI PowerSoC is designed and manufacturing-tested as a complete power system, which results in very low FIT (failure in time) rates and dramatically improves system reliability when compared to discrete power supply solutions. Other key features of the EN6362QI PowerSoC include:
· Increased power density: 56 W/cm2
· Optimized total solution size of 170 mm2
· 1.5 percent output voltage accuracy over line, load, and temperature
· Excellent load transient and output voltage ripple
· Precision enable for sequencing
· Full suite of protections
· Low EMI
· Programmable soft-start
"The innovation behind this product reinforces the Enpirion solutions' leadership in integrated power solutions as we are continuing to drive density higher and solution size smaller, while raising the bar on performance specs such as accuracy and EMI, which are needed by FPGAs and other advanced electronic systems," said Mark Davidson, senior director for Power Products, Programmable Solutions Group, Intel. "With its ease of use, the EN6362QI allows our customers to save design time and cost without sacrificing performance by eliminating costly board spins, and focusing resources on system design, not power.