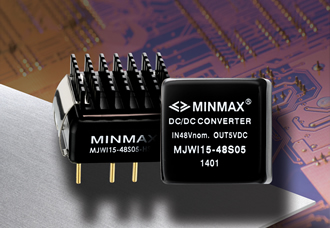 DC-DC Converters in tiny 1×1" package from MINMAX
MINMAX is proud to announce the new MJW15 & MJWI15 series of 15W Isolated / Regulated DC-DC Converters with wide 2:1 or ultra-wide 4:1 Input ranges for OEM / ODM / Industrial Applications where space is critical.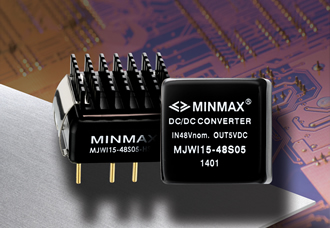 These two families of high-density (small size) / high performance dc-dc converters are identical except for their input range. The MJW15 (Wide 2:1 Input Range) family offers 9-18 / 18-36 / 36-75 VDC Input Ranges while the MJWI15 (Ultra-Wide 4:1 Input Range) family offers 9-36 / 18-75 VDC Input Ranges delivering 15W of output power in an encapsulated package with dimensions of 1.0 x 1.0 x 0.4".
Both families offer isolated and regulated single / dual outputs ranging from 3.3-15VDC. High efficiency operation ranging from 86-91% (depending on model) enables -40°C to +90°C operation (see derating curves).
Features include 1500VDC Isolation; no minimum load requirement; lower no-load power consumption; better EMI performance; Remote On/Off Control; Output Voltage Trim; Shielded Metal Package; and under-voltage lockout with over voltage / overload / short-circuit protection. All models have been qualified per the CB scheme with safety approvals to UL/cUL/IEC/EN 62368-1 (60950-1) standards.