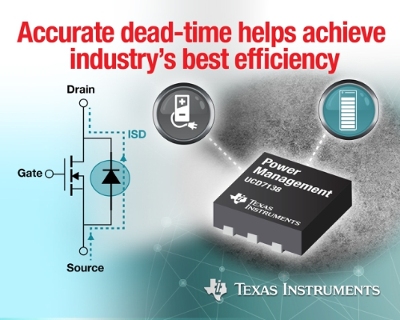 Digital power chipset from TI intelligently optimizes dead time to deliver industry's best efficiency
Texas Instruments introduced the first power management chipset with intelligent digital control and a unique body-diode sensing feature to optimize secondary-side synchronous rectification in next-generation AC/DC and isolated DC/DC power supplies. The UCD3138A digital controller and UCD7138 low-side gate driver improve system efficiency and cut synchronous rectification MOSFET voltage stress in half compared to other digital-power solutions. For more details, see www.ti.com/UCD7138-pr.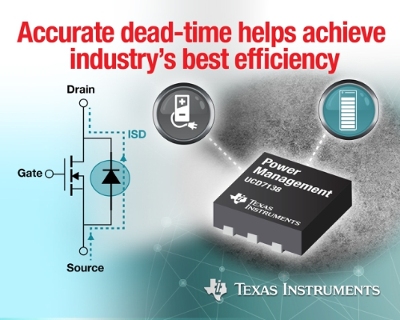 Accurate control of dead time in the synchronous rectifiers helps minimize power losses and reduces the risk of MOSFET failure. The UCD3138A and UCD7138 chipset use body-diode voltage information in fast digital control algorithms to dynamically optimize dead-time and compensate for power-stage component variations without calibration or screening during mass production. This helps telecom and server end-equipment manufacturers more easily bring to market energy-efficient 80 PLUS Titanium-grade power supplies, which saves energy costs to information technology service providers.
Key features and benefits of the
UCD3138A
and
UCD7138
:
Intelligent diode voltage sensing optimizes dead time: Adjusting timing for minimal diode conduction increases efficiency and reliability, while eliminating the signal-to-noise ratio challenges of traditional MOSFET VDS ON sensing devices.
High peak current supports wide load range: The UCD7138's asymmetrical, rail-to-rail 4-A source and 6-A sink peak-current drive supports load range of a few-hundred watts to a kilowatt where multiple paralleled FETs are used.
Compact solution enables fast, efficient switching: A 3-mm by 3-mm QFN package reduces board space as well as parasitic inductances when placed alongside the synchronous rectifier MOSFETs.
Efficient operation at frequencies up to 2 MHz: The hardware peripherals in the UCD3138A along with 14-ns propagation delays and fast rise/fall times with minimized tolerances in UCD7138 enable extremely high frequencies.
Along with this chipset, TI has also recently released a new solution for lower-power AC/DC flyback converters. TI's UCC24630 synchronous rectifier controller delivers the highest efficiency with low sensitivity to board layout and MOSFET package parasitics. Auto low-power detection and 110-uA standby current also allow designers to easily achieve ultra-low standby power consumption. Tools and support Designers can quickly develop and debug applications with TI's Code Composer Studio™ (CCS) integrated development environment (IDE) or refer to the TI Designs 340W digital controlled LLC resonant half-bridge DC/DC power conversion reference design. Pricing and availability The UCD3138A and UCD7138 devices are available now in the TI store and through the company's authorized distribution network. The UCD7138 MOSFET driver is packaged in a 6-pin QFN package and is priced at US$1.10 in 1,000-unit quantities. The UCD3138A digital controller is packaged in a 40-pin QFN package and is priced at US$3.22 in 1,000-unit quantities. About TI's digital power products Texas Instruments offers the broadest portfolio of digitally enabled, configurable and fully programmable power controllers, providing customers with design flexibility, power efficiency and higher integration to meet dynamic system needs and reduce total cost. TI's digital power solutions support power conversion and communication protocols that address a range of applications including industrial, automotive and communications infrastructures. Find out more about TI's digital power solutions and MOSFETs: