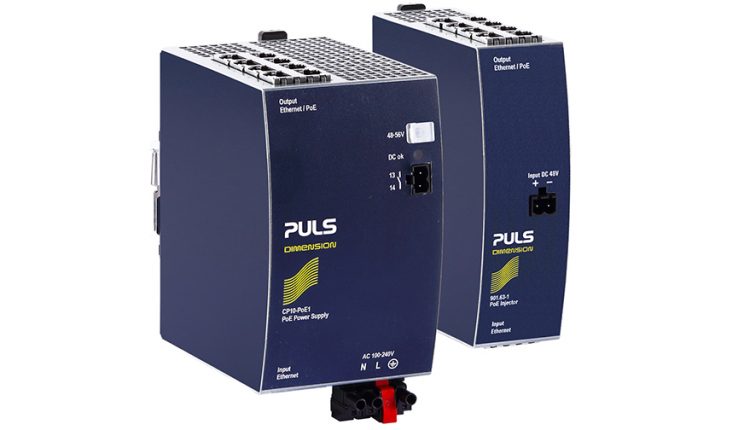 PULS Power
DIN-Rail injectors and latest power supplies on show at EDS 2018
Significant new products from PULS Power will be on display for the first time at EDS 2018. Responding to the growing market in Power over Ethernet systems in industrial, commercial and rail applications PULS has introduced two new products. On display at the show will be the new CP10-PoE1 PoE injector which offers system builder's maximum integration and simplicity of installation.
The CP10-PoE1 is available with up to eight ports and features an integrated premium power supply while measuring just 77mm wide. This AC input injector can do what normally requires a combination of at least two devices, reducing costs, installation time and space required on the DIN Rail.
For systems with an existing system power supply the PULS 901.63.1 stand-alone DC input PoE injection device can provide four or eight ports at just 39mm wide offering system designers' maximum space savings.
Also new for EDS are the latest models in the DIN-Rail Piano power supply range. The 90W PIM90 power supply offers price/performance for smaller systems. This product range has been introduced to meet the needs of a growing market for compact, no-frills, low power DN-Rail units for 'point of power' applications.
The PULS full product range includes: single-phase power supplies, three-phase power supplies, DC/DC converters, buffer units, DC-UPS battery modules and redundancy modules.
PULs can provide COTS, partially and fully customized products and conformal coated ruggedized versions for operating in harsh conditions.
Marco van der Linden, UK Country Manager, for PULS commented: "PULS offer customers high quality power solutions for industrial, building automation and control systems manufacturers. Our products offer the highest performance, efficiency and reliability available. This reduces operating costs, down-time and service issues ensuring our products deliver the lowest cost of ownership available to system builders."