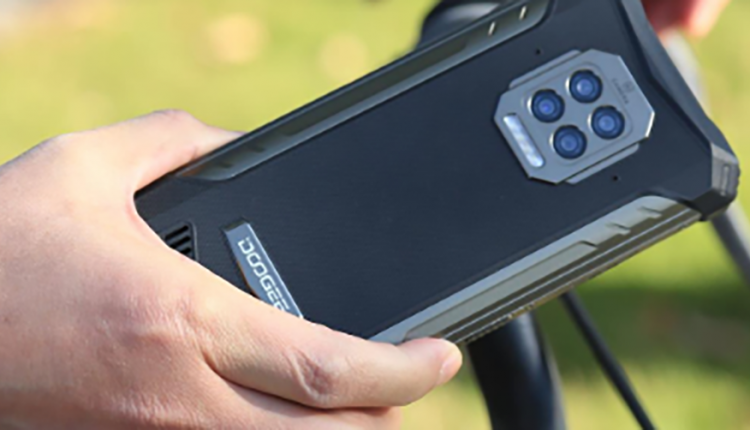 Innovative technology company, DOOGEE Hengtong Technology Co. Ltd, is today pleased to announce the launch of its latest phone, the DOOGEE S86. The DOOGEE S86 is a great value option that brings an impressive 16MP AI quad camera, strong and durable hardware and an impressive, smooth interface.
With a large battery, IP68 /IP69K/ MIL-STD-810G protection, dual SIM and wide network compatibility and a loud smartphone speaker that could replace a portable speaker. It is an ideal option for anyone who likes to travel. The S86 is available in Flame Red, Fire Orange and Mineral Black from AliExpress globally for $299.99/£225.59. From the 15th March the phone will be available at a surprise discounted price on AliExpress for a limited period.
Battery
As with all of DOOGEE's rugged phones, the S86 boasts an incredibly long battery life its 8500mAh battery providing a standby time of 27 days, calling time of 39 hours and a normal use life of 2-4 days so plenty of use before charging required. When the phone does need to be charged, it supports 24W Type-C fast charging to ensure that users are back and connected as soon as possible.
Specifications
Featuring a high-performance and extremely compact 12nm Helio P60 Octa-Core processor and a maximum speed of 2.0GHz, the S86 is a fast and user-friendly phone. With the capability to process massive amounts of data and with instantly responsive AI computing, the performance is stable and powerful with smooth multi-tasking, seamless visuals and a fantastic gaming experience so everything is fast and smooth, no matter what the phone is used for.
With up to 6GB RAM and 128GB ROM, the advanced UFS 2.1 high-speed flash storage greatly improves the overall performance and reduces power consumption as well as leaving plenty of room for photos, music, apps and more. This provides a 14% higher efficiency, 15% improved peak performance, 63.66% improved continuous read performance and 26.64% improved random writing performance.
Running on the latest Android 10, it has a smart and efficient operating system with features including power-saving dark mode, a simple user interface and intuitive navigation systems that make it an efficient phone to use. The S86 also works with Bluetooth 5.0.
The DOOGEE S86 has a wide network compatibility, supporting network architectures and most mainstream frequencies to allow the best possible world network connectivity no matter where the user may be, making it easy to travel.
Screen & Speakers
The S86 phone has an impressive 6.1" HD+ waterdrop screen with 720*1560 resolution, 282 PPI pixel density and 16.7 million colours for a vibrant and immersive visual experience. Protected by Corning Gorilla Glass, it can also resist daily drops and scratches easily. In addition, the phone has extremely loud speakers and features a Tonearm box and IC SMART power amplifier that can be increased to a maximum power output of 2W and a volume of up to 100dB. This is ideal for music or those making and receiving phone calls that are hearing impaired.
Rugged Capabilities
The DOOGEE S86 can help to complete tasks in harsh environments as it has been carefully designed to survive harsh use in manufacturing, agriculture and hazardous and outdoor environments. Using industrial rubber with seismic elements, the four corners are thickened with high-strength materials to make them sturdy and durable with a strong steel skin. The back of the phone has also been designed with raised middle and friction to enhance the feel and grip.
An ultra- tough phone, the S86 can survive water, drops, bumps, shocks and even extreme weather conditions making it a great option for those who like travelling or going on adventures with no concern over smashed screens or water damage. Waterproof up to 1.5m deep for 30 mins, drop-proof and dustproof, it is certified IP68, IP69K and MIL-STD-810G. The S86 also has enhanced touch capabilities for use with gloves and in wet conditions so that it is a convenient choice whilst out of the house.
The S86 also has a practical outdoor kit to make it not only a great rugged phone but also a great tool. The apps available are ideal for those adventurous walkers, including compass, sound meter, height measure, magnifier, protractor and plumb bob and apps perfect for DIY including picture hanging and height measure. The S86's navigation system enables faster and more reliable positioning across the globe whether on a remote canyon, a busy city street or in the mountains using GPS, GLONASS and BeiDou.
Camera
The DOOGEE S86 features an AI quad camera (16MP+8MP+2MP+2MP) which makes it an ideal phone for taking travelling or on adventures. With a 16MP AI main camera with 80° field of view and F/2.0 aperture, the phone allows images to be captured in great detail and videos to be clear and effective even in challenging and difficult to capture environments. With four high brightness LED flashlights on the back, these help to take pictures that are just as impressive in low light environments and can also be used as a flashlight when out and about!
The 8MP wide-angle camera allows users to capture scenes without changing the shooting angle with a 130° field of view, F/2.2 aperture and Samsung S5K4H5 sensor chip. The 8MP front camera also has a 90° field of view and an AI beauty feature that can make hair, skin, eyelashes and other details smooth and pleasing on all selfies taken. To ensure all images are clear and detailed, the S86 also includes a 2.5cm focus macro lens so photos taken at very close proximities are captured in microscopic detail.
Dual SIM, Security & Additional Features
The S86 is incredibly adaptable with a dual card slot to give users the benefit of dual SIMs to use two numbers whilst also allowing internal memory expansion of up to 256GB with the Micro SD slot. For enhanced security, the S86 includes both face recognition as well as NFC and side fingerprint recognition to unlock the phone with a 0.19 second response speed, 360-degree identification angle and 508DPI scanning resolution. The multi-function NFC allows users to conveniently and safely use Google Pay. Designed to be extremely quick and easy to use, it makes unlocking the device as simple and secure as possible.
With a Type-C port and a 3.5mm headphone jack, it is convenient and portable and also allows users to customise the side-mounted fingerprint sensor for 6 alternative functions: Start Sound Recording, Open Flashlight, Take Screenshots, Open Underwater Camera, Open SOS and Open Game Mode.
The DOOGEE S86 is available in Flame Red, Fire Orange and Mineral Black from AliExpress globally for $299.99.