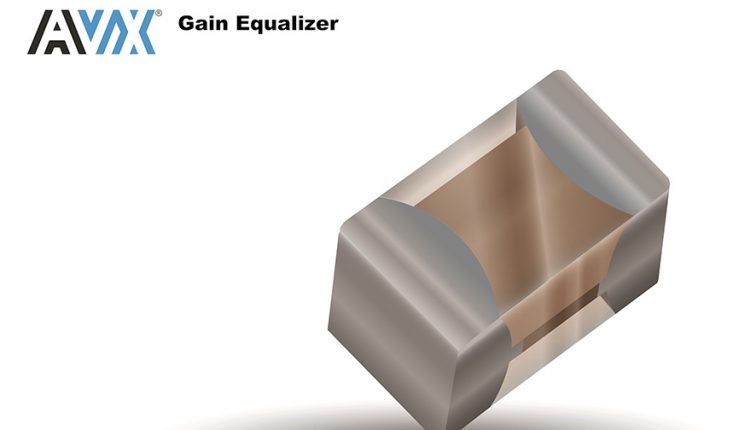 AVX
Equalizers deliver reliable, tight-tolerance solutions in TOSA
A range of ruggedly constructed, ultraminiature (EIA 0402, 1005 metric) equalizers has been launched by AVX Corporation, with the GEQ Series RC equalizers. These combine high-performance tantalum nitride (TaN) resistive elements and silicon/oxygen/nitrogen (SiON) capacitive elements with AVX's proprietary, automotive-qualified, glass-sandwich FLEXITERM surface-mount technology.
These elements provide an extra measure of protection against flexure damage during installation. The new GEQ Series equalizers are also manufactured with 100% laser trimming to achieve tight tolerances and offer a low 0.5mm profile, a 125mW power rating, resistance values spanning ten to 50Ω, and capacitance values extending from one to 50pF.
Rated for a wide range of operating temperatures (-55ºC to +125ºC) and compliant with RoHS, applications for the series extend across the optoelectronic, telecommunications, broadband, military, electronic warfare, space, test, and instrumentation markets and include optical transceiver modules, broadband receivers, and transmission and receiver optical subassemblies (TOSA and ROSA).
Larry Eisenberger, Principal Technical Marketing Engineer at AVX, stated: "Our new, ultraminiature GEQ Series equalizers deliver reliable, tight-tolerance performance in a wide range of cross-market, small-form-factor electronics."
The series' ultraminiature 0402 case sizes measure 1×0.5×0.5mm ±0.10mm, and their FLEXITERM (Ag/epoxy), NiSn-plated terminations are 0.25mm ±0.15mm wide. Additional EIA case sizes and RC combinations are available upon request.
GEQ Series RC equalizers are packaged on tape and reel, and lead-time for the series is currently 14 weeks.