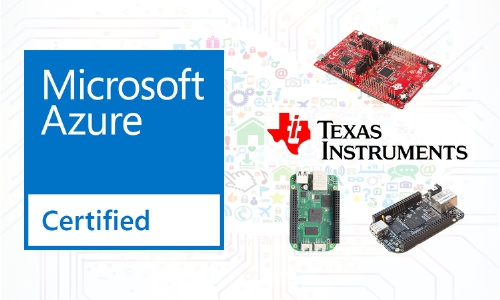 Evaluation kits support Microsoft's Azure IoT Suite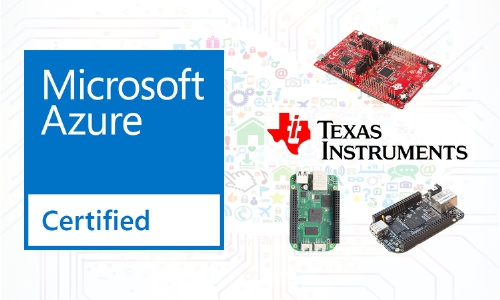 Enabling embedded developers to jumpstart innovative designs for the IoT era, Texas Instruments has announced three low-cost evaluation kits based on its embedded processors supporting Microsoft Azure Certified for IoT. As one of the first semiconductor vendors with certified wireless MCU and processor-based evaluation kits ready to work with the Azure Suite, TI is uniquely positioned to help developers begin IoT application development within minutes.
The Microsoft Azure IoT Suite's agent code has been pre-ported to TI's low-power SimpleLink WiFi CC3200 wireless MCU LaunchPad kit and Sitara AM335x processor-based BeagleBone Black and BeagleBoard Green kits. Developers can expect additional certifications of TI products in the coming months.
The Microsoft programme verifies that a member's hardware is compatible with Azure IoT Suite and enables developers who have purchased TI's low-cost development kits to easily download the appropriate Microsoft Azure for IoT agent to quickly connect to the cloud.
"We are pleased to include Texas Instruments as one of the first members of Microsoft Azure Certified for IoT to allow customers to build TI-based cloud-connected products faster and easier," said Barb Edson, General Manager for Data Platform and Internet of Things, Microsoft. "Building on today's certifications, we are committed to working closely with Texas Instruments on industrial, automotive and consumer applications. certified for Microsoft Azure IoT Suite."
Semiconductor innovations are at the foundation of the IoT connecting people, things and cloud. TI innovations are enabling the IoT by expanding from wired connections to wireless connectivity, driving down power to enable battery-operated connected products, increasing integration to drive down system cost, easing development by providing modules and pre-integrated internet software stacks and increasing security in silicon.