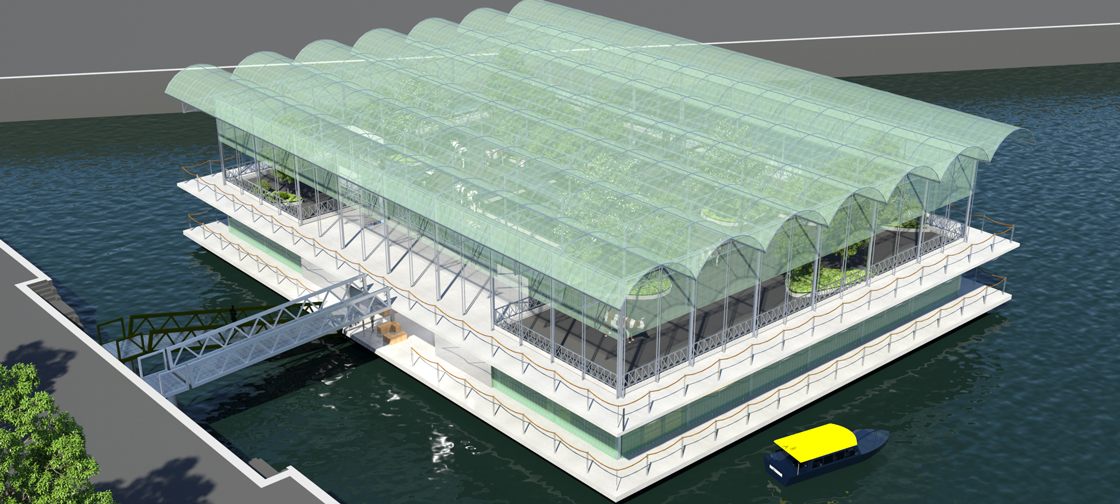 The floating farm is making its way to Rotterdam, as the first floating dairy farm in the world. The floating farm is an animal-friendly, circular, sustainable, educational and high-tech project, which will consist of 3 floors; of which the first layer, the floating body is now ready.
The floating body of the Floating Farm will leave on Saturday morning June 30th via the Dutch waterways to those of Rotterdam. The transport will take two days. The floating body is expected to arrive at the mooring in the Rotterdam Merwe-Vierhaven on July 1st.
Since March of this year, work has been done in Zaandam on the 900-tonne weighing floating body. Once moored, another two floors will be constructed on the Floating Farm in the coming months. If everything goes well, the farm will open its doors to the public by the end of this year.
Floating Farm´s future farmer is happy with its arrival. Albert Boersen said: "A lot of work has been done in recent months to realize the floating body. Now that it is on its way to the M4H, the people of Rotterdam can closely follow its construction. I look forward to starting-up running the farm by the end of this year and getting the city acquainted with farming life. That will also be the moment that the first real dairy products from Rotterdam can be bought at the farm."
The floating body will contain several technical installations that will, among other things, purify the rainwater to be used at the farm. Furthermore, there will be a large multifunctional room for education in the field of healthy food and fair food production. Additionally, rooms will be available for rent for presentations, events, conferences and other activities.
Spot the floating body and win a workshop cowcuddling
Have you spotted the floating body? People are encouraged to share pictures of the floating body on Instagram with the hashtag #FloatingFarm010 and could win a cowcuddling workshop at the Floating Farm. On its journey from Zaandam to Rotterdam, the floating body passes, among other cities, Amsterdam, Utrecht, Nieuwegein, Tiel, Gorinchem and Dordrecht. From all submissions, the best, funniest, most beautiful or original photo will be selected by the Floating Farm team as the winner.
Donate a cow
Currently there are still two artificial cows grazing on the floating body but at the end of this year the Floating Farm wants to be home for about forty cows. People can help Floating Farm achieve a full cowshed. You can donate a cow via the website or make a small donation. Each amount will bring Floating Farm one step closer to a real stock of cattle.
Visit here for more information.